Adobe Audition CC: Using Markers [u]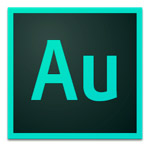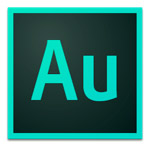 [Updated Aug. 17, 2019, with information on how to import or export markers using CSV files.]
I edit in Adobe Audition almost every day, generally for my weekly podcast (DigitalProductionBuzz.com). And, as with all the software I use, I keep looking for better or faster ways to do something.
Many times, I want to take a short section of audio and move it from one place to another, either in the timeline or the waveform editor. While it is easy to drag a clip to move it, I started wondering about whether markers could help.
That got me wondering about markers in general, and THAT made me realize that I didn't know a whole lot about how markers work in Audition. This became the impetus for this article.
NOTE: Adobe's Help files are seriously out of date regarding markers. This article contains information not found in the Help files.
UPDATE: Here's a second article that describes how to export and import markers using Audition.
BACKGROUND
A marker specifies a location in time in either the Waveform Editor or Multi-track Timeline. There are four marker types within Audition:
Cue
Subclip
CD Track
Cart Timer
Cart timer markers are part of an old-fashioned technology radio stations used to copy commercials and other short programs to audio tape for instant playback on air.
CD Track markers are used to indicate the start of tracks when creating audio CDs.
Subclip markers are used by Premiere Pro and Prelude to define clips within longer recordings. This clip type is useful when working back and forth with Premiere, but perhaps less so in an Audition-only workflow.
Cue markers are a general purpose marker for use within Audition.

NOTE: Cue markers are gray. Subclip markers are blue. Operationally, within Audition, these two marker types are identical. If you are moving files between Premiere and Audition, use subclip markers.
In Audition, a marker can either be a point or a range.
A point refers to a specific time position with a duration of 0. You can modify the start time at any time.
A range has both a start time and a end time. You can modify the start time and duration of a range at any time.
WORKING WITH MARKERS

To add a marker, position the playhead where you want to locate a marker and type M. This adds a Cue marker at the position of the playhead. The default marker name can be changed in Preferences > Markers & Metadata.
NOTE: You can also add markers using the Markers panel, but M is MUCH faster!
To move a marker, drag it.

To rename a marker, right-click the marker icon, and select Rename Marker.
To delete a marker, right-click the marker icon, and select Delete Marker.
NOTE: Here's a really cool tip. Once you create a marker press /  — this selects the marker name in the Marker panel so you can quickly rename the marker.  If the Marker panel is not open, press / twice.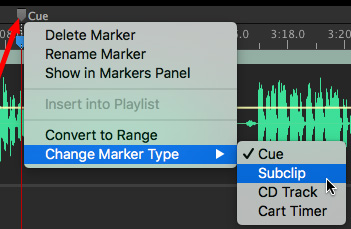 To change the marker type, right-click the marker icon and select the option you want under Change Marker Type.
Markers created in the Waveform view are attached to the audio file, so if you insert or delete segments of the WAV file, the marker(s) will move. They also show up as static lines in the clip when used in Multitrack. Markers added to multitrack sessions are tied to the session timeline, and do not move with clips. However, they WILL move if you insert or delete time in a session.
WORKING WITH RANGES
Ranges allow you to label a section of an audio file.

If you are in the Waveform Editor, select the region that you want to convert to a range, then type M. This is a very fast way to build a collection of sound bites for later editing (see below).
NOTE: You rename marker ranges the same as markers.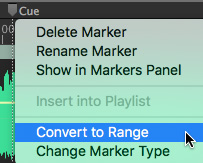 To convert a marker to a range, right-click the marker icon and select Convert to Range; both Cue and Subclip markers can be converted to a range.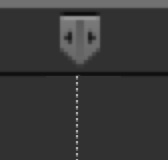 This displays the two sides of a range marker.

To set the range, drag one of the two edges.
USING THE MARKERS PANEL
Open the Markers panel from the Window menu or type Option + 8.

The markers panel allows you to do even more with markers. For example:
Quickly change the marker type
Merge two adjacent markers to create a range
Export a marker range as a separate audio file
Rename markers
Modify the start time or range duration
Export marker names to a CSV file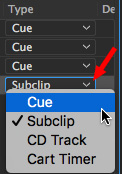 To change the marker type, click the downward-pointing arrow next to the marker type.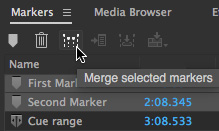 To merge two adjacent markers to create a range in either the Waveform Editor or timeline, select the two markers in the Markers panel, then click Merge Selected Range icon in the top tool bar.

To rename a marker, double-click the name.

To change the start time, or range duration, double-click the timecode you want to change. (Or simply drag the marker where you want it in the Timeline.)
THINGS TO DO WITH MARKERS
The most obvious reason for using a marker is to label sections of your audio. This makes jumping between markers a simple keyboard shortcut:
Shift + M – Jump to next marker
Option + M – Jump to previous marker
But there are less obvious things to do with markers that can speed editing.

If you have selected a marker range in the Waveform Editor, you can export it as a stand-alone audio file using the Markers panel.
Or, you can copy the selected range and automatically insert it into a multitrack timeline. However, every time I tried this, the inserted range was always placed at the beginning of the selected track, not at the position of the playhead. And it is often difficult to select the correct track, then switch to the Waveform Editor.
If you create range markers in a clip, you can drag the range directly from the Markers panel into a track in the multitrack timeline. This is a very fast way to build a collection of sound bites.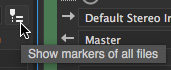 This button – on the far right side of the Markers panel – allows you to see all the markers in all files that are currently open in the project, not just the currently selected file or timeline.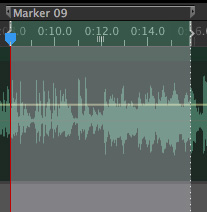 In what is a very useful function, if you have a marker range in the Timeline, double-click the edge of the marker to select the entire range. Once the range is selected:
Copy and paste the contents into a new track
Type Delete to remove the selected area and leave a gap
Type Shift + Command + Delete to delete the selected area and close the gap
Type G to deselect the range
I REALLY like dragging marker ranges applied to a clip from the Marker panel into the timeline. That is just a really fast way to edit.
MARKER PREFERENCES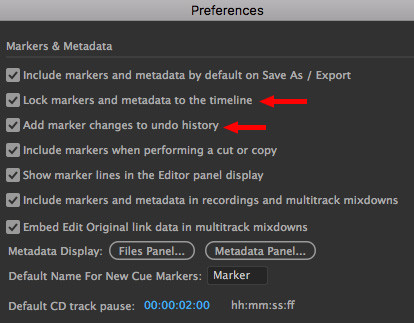 There's an entire preference panel devoted to markers. While I like all the defaults, there are two settings I want to call to your attention:
Lock markers… When this is unchecked, markers in the Waveform Editor will move as the audio they are attached to changes position. Timeline markers never shift as clips change position.
Add marker changes… When this is unchecked, any changes you make to a marker are not reflected in the History panel. If you are doing a lot of logging, unchecking this can unclutter the History panel.
However, in general, I leave these settings at their default.
KEYBOARD SHORTCUTS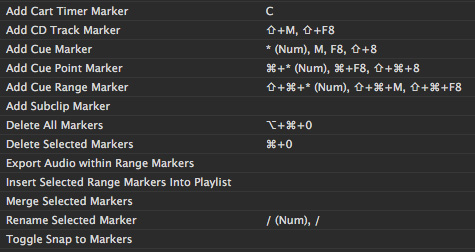 There are 17 keyboard shortcuts for markers in the default keyboard shortcut set in Audition. While M creates a default Cue marker, Shift + Cmd + M creates the much more useful Cue Range marker.
The only shortcut that drives me nuts is "C", which creates a Cart Timer marker. Since Premiere uses C to cut clips, I am forever inserting Cart Timer markers when I want to cut a clip. In my personal shortcut set, I set this shortcut to blank.
THINGS I WISH MARKERS DID, BUT THEY DON'T
Markers in Audition are useful and range markers, though hidden, are really useful. Still, there are a number of things I wish Adobe would implement for markers in Audition:
Remove the default shortcut for Cart Timer markers (though this can be done manually)
Add a shortcut for Subclip markers (though this, too, can be done manually)
Allow selecting one or more markers in the Timeline (for example, to delete them)
Allow changing the default cue marker to a a cue range marker
Allow markers in the Timeline to be selected and moved as a group
Allow merging markers in the timeline, merging in the Markers panel is too obtuse
Allow markers in the timeline to move as clips are added or deleted.
Allow markers to be attached to a clip and displayed in the timeline (great for marking specific audio cues or syncing clips)
Allow dragging a select timeline range to a different location in the timeline.
SUMMARY
The most powerful feature of markers in Audition – range markers – is really hidden. And unless you know how to use the Markers panel, most of the benefits of using markers are also hidden.
Using Subclip markers to log audio before importing it into Premiere is a great way to keep files organized and speed your editing.
In short, once you know how markers work, they can make your editing more organized and much more efficient.
---
Bookmark the
permalink
.