Adobe Announces "Auto Reframe" for Adobe Premiere Pro CC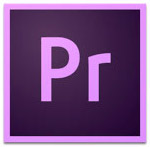 Last Friday, at IBC 2019, Adobe announced a new feature coming to Premiere Pro. Powered by Adobe Sensei, Adobe's AI and machine learning technology, Auto Reframe intelligently reframes and reformats video content for different aspect ratios, from square to vertical to cinematic 16:9 versions. Like Content-Aware Fill for video in After Effects (introduced this spring), Auto Reframe uses Adobe Sensei to accelerate manual production tasks, without sacrificing creative control.
"Manually reframing sequences with multiple resolutions is a tedious and time-consuming process. With Auto Reframe, users can simply drag the effect onto the individual clip or clips they wish to reframe and it does the work for them, saving countless hours. Intelligent algorithms generate motion keyframes that follow the action in the video so the most important content is automatically centered and kept in the frame. For more complex sequences containing many clips and edits, Auto Reframe automatically generates a new sequence that applies reframing to all the clips in the timeline." (Adobe announcement)
Auto Reframe will launch on Premiere Pro late this year.
EXTRA CREDIT
Here's Adobe's blog with other new product announcements for Premiere at IBC
---
Bookmark the
permalink
.