Buzz At The 2014 NAB Show: Gear

This is the sixth year our podcast – Digital Production Buzz – is covering the NAB Show in Las Vegas in April. Not only are we an Official Media Partner with the NAB Show, we have our own booth: SL 11505 in the South Lower Hall.
Staring Monday, April 7, we are podcasting seven live NAB Updates – at 10:30 AM and 2:00 PM each day – plus creating an hour-long NAB Special Report, which posts every evening around 7 PM. All originating from a 20×20 foot booth on the show floor.
NOTE: To hear all our coverage of the 2014 NAB Show visit: www.NABShowBuzz.com
To make all this happen, we are taking about $50,000 in gear, with a cast and crew of 29 people. This is the first of two articles describing what we are doing. In this article, I want to show you the gear we are using and explain why we are using it. In the companion article, I'll describe the workflow we are using to make it all happen.
NOTE: Click here to read my second article describing the workflow and team we'll use to assemble these shows.
THE FLOOR PLAN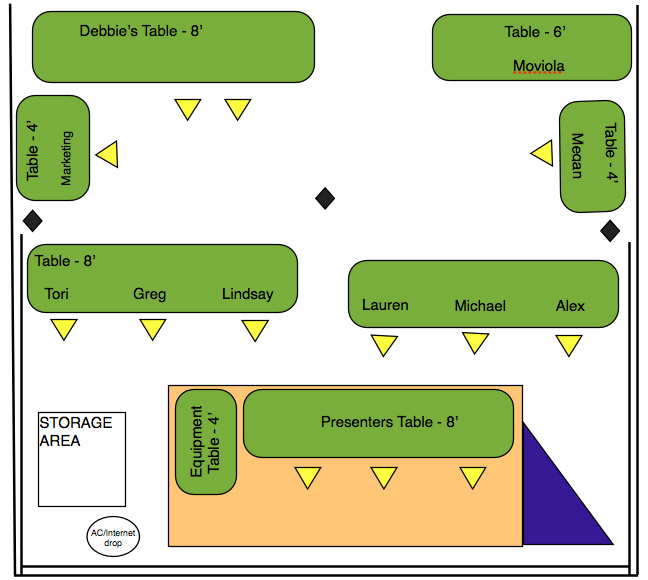 Here's the floor plan for the booth. Our Event Producer, Debbie Price, marketing and Moviola (who is partnering with us this year to provide video coverage of our interviews) are at the top tables.
The middle tables are where our editors and web team work, while the lower section is the stage where we conduct the interviews.
NOTE: As I write this, all our gear is spread out in boxes across the office as we test and pack for the event. As we set up for NAB next weekend, we'll be posting pictures of what things look like to Instagram. I'll have the Instagram address for you next week.
POWER
We are getting three 20-amp circuits with the booth. This provides AC power to all tables, lights, cameras and our audio recording gear.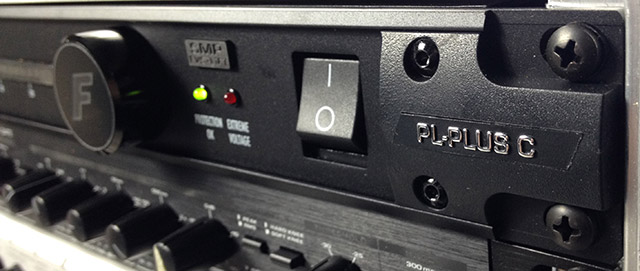 To avoid audio hum problems, all audio gear shares a single dedicated 20-amp circuit. All power feeds through a Furman PL-Plus C power conditioner; which also provides some very cool blinking lights.
NOTE: All photos are taken as I am setting up and testing gear in the office. This should look neater for the show; I hope.
MICROPHONES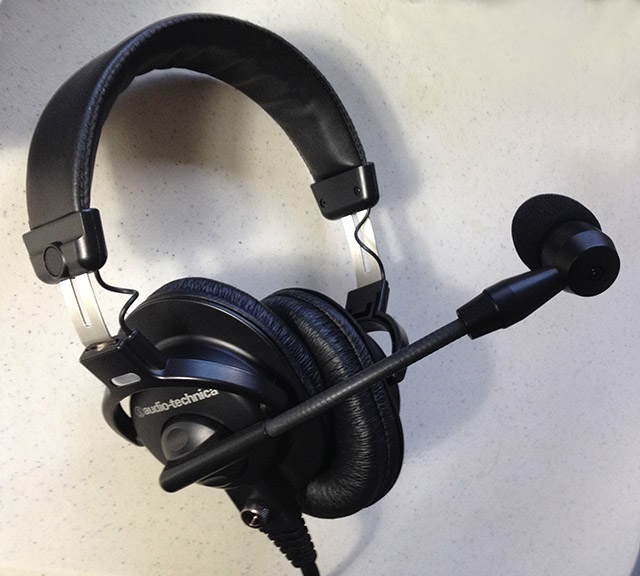 I've never been truly happy with the sound of our mics, so this year I'm experimenting with a mix of Audio-Technica BPHS1 headphones and a Sennheiser HMD-280 Pro. The Sennheiser are hard to find, so I was only able to get one in time for the show. If you are curious, I'll be wearing the Sennheiser, and the guests will use the Audio-Technicas.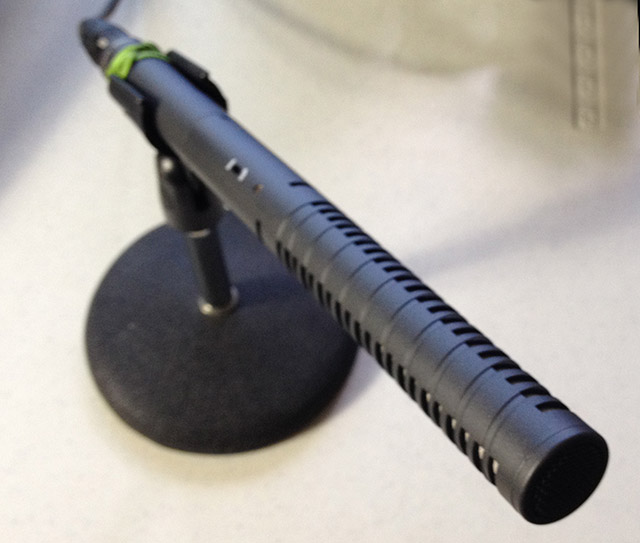 To pickup generic room tone, we are using a Rode NTG-2 short shotgun. In year's past, I've used a Shure SM58 – which is a mic I truly love. But the Shure sounds best when placed very close to the sound source – think narration or vocals – so I'm trying the Rode to see if we can pick up a bit more ambience from the show floor.
NOTE: You may have noticed the green rubber band at the clip. That's because mic clips are back-ordered. With luck, we'll have one in time for the show. I hope. The recommended clip for this mic is the RM5.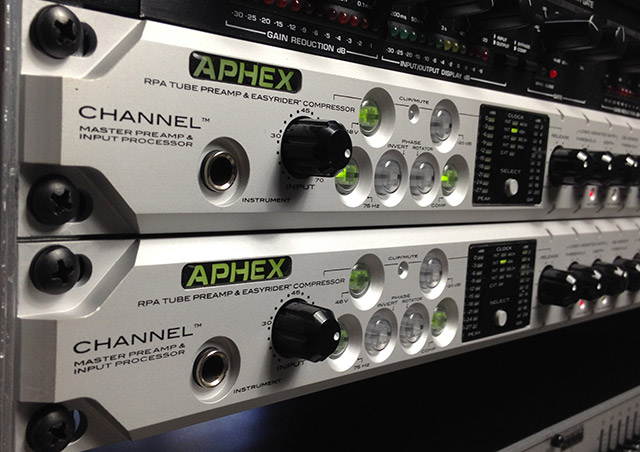 All the headset mics feed into an Aphex Channel, which provides a variety of really useful functions:
Tube-based mic pre-amp
Audio limiter
Noise gate which kills background sound when someone is not speaking
Sibilance reduction, which reduces sharp "S" and strong breathing sounds
EQ to shape the voice
Analog and digital signals out, depending upon what you need
I own five of these Aphex systems and use them just about everywhere, for both my podcasts and video training. Aphex is graciously loaning me one more for the show – which fills the gap in the rack below the two existing Aphex units – so that all three interview mics will be processed by the Aphex.
While I don't do a lot of sound-shaping, I rely on them for their sibilance control, noise gates and limiting. They give us a great sound with tons of control.
MIXING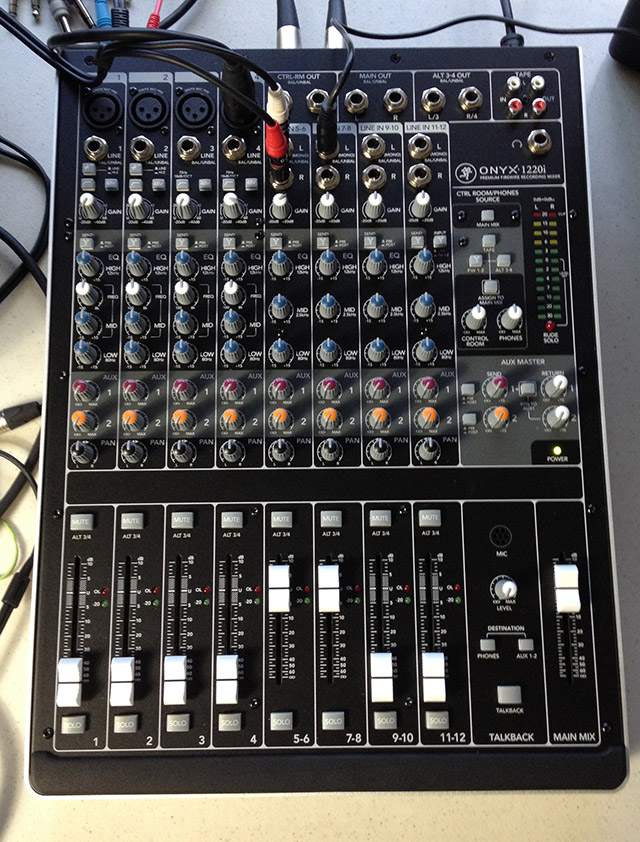 All audio signals flow into a new Mackie Onyx 1202i FireWire mixer. For the weekly  Buzz show, we use a nine-year old Mackie 1202VLZ mixer that is the most reliable piece of audio gear I've ever owned. We bought the new Mackie to replace a Presonus mixer we've used in years past that is no longer sold.
The reason I chose the Mackie is because of its flexibility. It needs to receive inputs from:
Each Aphex, using a return channel which bypasses the mic preamp in the Mackie
The Rode shotgun for room tone
An iPad which plays all music and commercials for the live show
For outputs, the Mackie sends audio:
Via FireWire to my MacBook Pro laptop to record all shows and interviews
To the streaming web server in our booth for our live shows
To the audio distribution system, detailed below
NOTE: One of the things I really hate about listening to live sportscasts is how loud the crowd is. Background noise should be used to establish that you are on the scene. But if you have to struggle to hear what the commentators are saying, this indicates to me an audio engineer that is not paying attention to the mix. (Or a producer that mistakenly thinks that the louder the crowd noise the more exciting the game.)
OUTPUT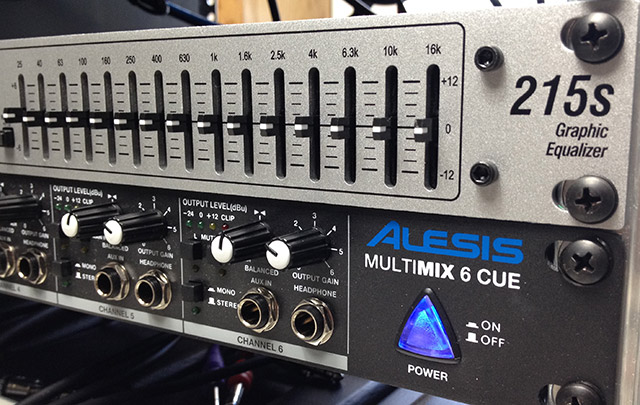 While the Mackie has lots of flexibility in signal routing and output, we are supplementing it with an Alesis Multimix 6 Cue for our audio distribution system.
The Multimix sends audio to:
To PA speakers located in the booth
To all headsets that booth staff use for monitoring interviews and shows
To all three video cameras
To all headsets for guests on the stage
I also use a dBX 215S Graphic Equalizer to brighten the sound in the stage headsets so that guests can clearly hear above the rumble of the trade show noise.

Finally, to make sure that our audio levels are under control for the live shows, master output from the Mackie runs into an Alesis 3630 Compressor. The one thing that sounds terrible when using digital audio is spikes that exceed 0 dB. We limit our levels to a maximum of -3 dB.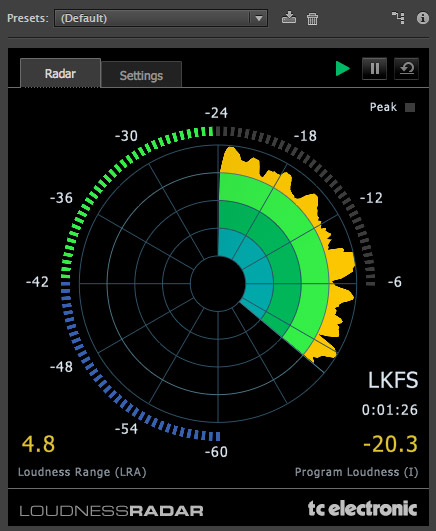 NOTE: I've learned that MP3 compression prefers a maximum level of -6 dB, while AAC compression can easily handle levels peaking at 0 dB. Because we support both audio formats, I split the difference in my levels and limit all audio levels to peak at – 3 dB. (For those of you that know average levels better than peaks, we try to maintain average levels pretty close to -20 dB.)
MONITORING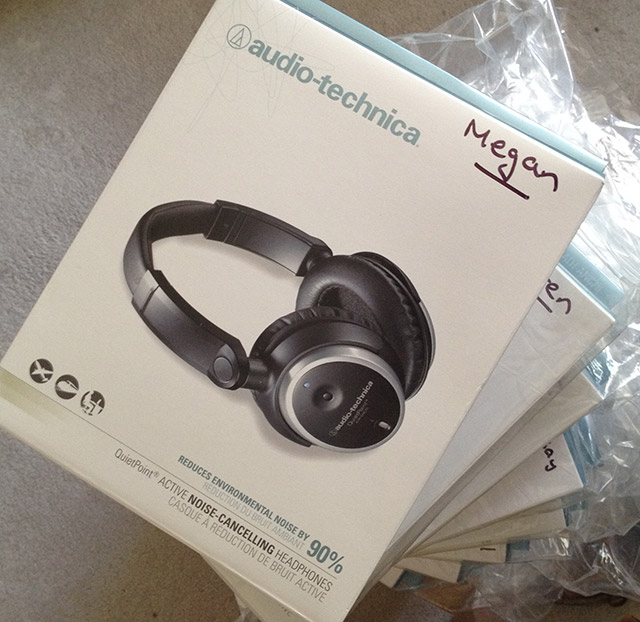 Each table has a separate audio feed from the audio distribution system and everyone in the booth has access to a headset so they can either listen to their computer, or the interviews broadcasting from the stage. All our critical listening positions – editorial and web streaming – are using noise-canceling Audio Technica headsets. These were a good mid-range choice as Bose units were just too expensive to buy in quantity.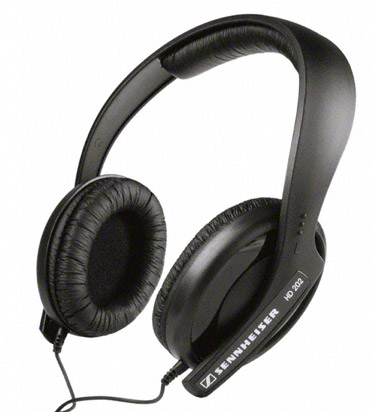 For our non-critical listening positions we use Sennheiser HD202 headphones. We've used these for years and like them a lot.
We rent mid-range JBL powered speakers for the PA system so guests in the booth are able to listen to the interviews. (Though we also set up a special area on the stage so that a PR representative from each company has the option to directly listen to the interview, though we don't give them a mic.)
COMPUTERS AND SOFTWARE
Our entire production team is Macintosh-based. Everyone is using a high-end recent model MacBook Pro laptop; except social media, where we brought an iMac from the office because it was easier to use it than installing all the software and data files they needed.
Our network server is a one-year-old Mac Mini, running OS X Server on Mavericks. Each editor has their own log-in, but we are running all applications locally on their computer. Audio files are small and edited via the network.
The network is switched through a NetGear ProSafe 16-port gigabit switch and, due to the insane amount of RF roaring around the trade show, every computer is hard-wired to the switch.
NOTE: Yes, we use every port on the switch. Scary.
All audio is recorded and edited as multi-channel audio files using Adobe Audition CC (THANKS, Adobe!), output as WAV files and compressed using Apple Compressor droplets that I created the week before the show. We post to the web using Podcast Maker and other software.
Believe it or not, everything – including all cables and supplies – fits into six boxes that we transport to Las Vegas in the back of a panel van.
SUMMARY
We've spent a lot of years perfecting this system and there are always new things we try. But I am committed to creating the best sound we can manage in a very difficult environment and this gear helps me to do just that.
You can hear the results for yourself starting at 10:30 AM Monday, April 7, when we air our first live show. Then, for the next three and a half days, we are recording 80 interviews and creating eleven and a half hours of programming which you can hear on the following websites:
iTunes – Digital Production Buzz
HUGE THANKS
For a small company like ours, putting something like this together is a massive effort. I especially want to thank our producer, Debbie Price, and  the sponsors who make it all possible:
Listen to all our coverage at www.NABShowBuzz.com.
---
Bookmark the
permalink
.