Photoshop for Video Editors
Photoshop for Video Editors
Photoshop is an essential tool for video production, regardless of which video editing system you use. This 4-session video training is designed for editors who need to learn Photoshop to modify, clean up or repair digital images
- OR -


Size: 2.25 GB
Contents: 4 QuickTime training movies, a folder of practice images and PDF of Larry's favorite Photoshop keyboard shortcuts
Files: This training is delivered as a single, downloaded ZIP file.
Photoshop is an essential tool for video production, regardless of which video editing system you use. This 4-session video training is designed for editors who need to learn Photoshop to modify, clean up or repair digital images. (The course outline is below.)
NOTE: If all you want is Class 4: Advanced Features, click this link to order it.
Tools covered during this course:
Selection
Marquee
Lasso
Quick Selection
Magic Wand
Crop
Healing Brush
Paint Brush
Clone
Eraser
Pen / Path
Text
Direct Selection
Shape
Magnifying glass
EXTRA BONUS: This also includes the image files used during training so you can follow along with Larry and a PDF with 32 of Larry's favorite keyboard shortcuts.
AUDIENCE LEVEL
This introductory course applies equally to Mac and Windows systems and does not require prior knowledge of Photoshop. These skills are relevant to all video editing systems. All training delivered as QuickTime movies.
NOTE: With the exception of repairing a video clip using Photoshop (Class 4), all the techniques shown in this training should work for all versions of Photoshop starting with CS6 or later.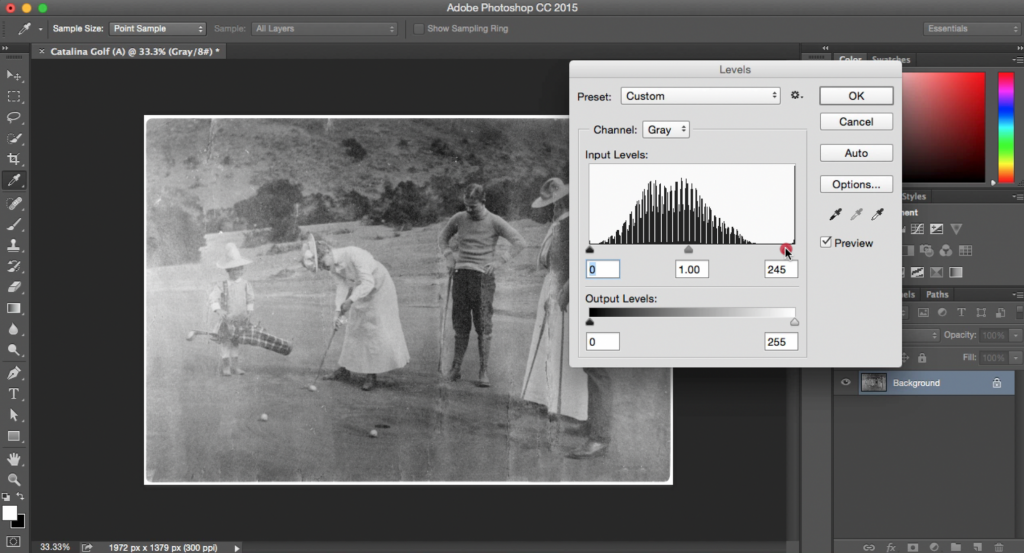 Class 1 – Get Started (TRT: 42:38)
Learn the Interface
Create a new document
The difference between Open and Place
Explain Smart Objects
Basic image editing – position, crop, rotate, resize and opacity
Introduction to Layers – Add, hide, reorder, delete
Add and modify text and drop shadows
Use the Shape tool to create, select and modify shapes
Class 2 – Selection (TRT: 33:21)
Optimize preferences
Copy / Paste vs. Copy / Paste Into
Use the Eraser
Clone within and between images
Selection tools: Marquee
Selection tools: Lassos
Selection tools: Magic Wand and Quick Selection
Selection tools: Quick Mask Tool
Explaining feathering
Refine the edges of a selection
Why and how to add an Adjustment Layer
Class 3 – Image Repair (TRT: 24:47)
Adjust gray-scale values using Levels and the Histogram
Adjust color values using Color Balance and Hue/Saturation
Straighten an image
Crop an image
Clone to remove spots
Clone to replace a portion of an image
Restrict cloning using a marquee
Repair scratches using the Healing Brush
Class 4 – Advanced Techniques (TRT: 37:23)
Size digital still images for video
Add filters
Apply Blend modes
Add text and place it on a curve
Create curved paths
Prep a 2D image for 3D moves
Repair damaged video frames