Audio Secrets for Final Cut Pro X
Audio Secrets for Final Cut Pro X
The best way to improve a video is to improve its sound. In this three-class series, Larry Jordan starts at the beginning and explains exactly what you need to know to make your audio sound great.
- OR -

Specs:
Contents: 3 QuickTime HD movies
Download size: Approx. 2.5 GB
Total Running Time: 2 hours 11 minutes
DESCRIPTION
"Help!," read Tricia's email. "Audio is a world of unmentionable demons and nowhere to learn it. Could you do a webinar on post-production audio workflow?"
We did better than that, we created three webinars and bundled them together to create our new Audio Secrets for Final Cut Pro X training.
In these three sessions, host Larry Jordan explains key audio terms, then shows how to apply them in Final Cut. The second class builds on this foundation and moves into advanced audio techniques, including audio filters and using Roles.
Then, when real audio power is required to either repair poor audio or create more complex mixes, the third session shows how to move Final Cut projects into Adobe Audition, repair audio, create a mix, and bring it back into Final Cut Pro X for final output.
To see more information about each of the webinars included, click the links below:
AUDIENCE LEVEL
This intermediate-level course is designed for Final Cut editors who want to learn more about audio. This training is delivered as three QuickTime movies.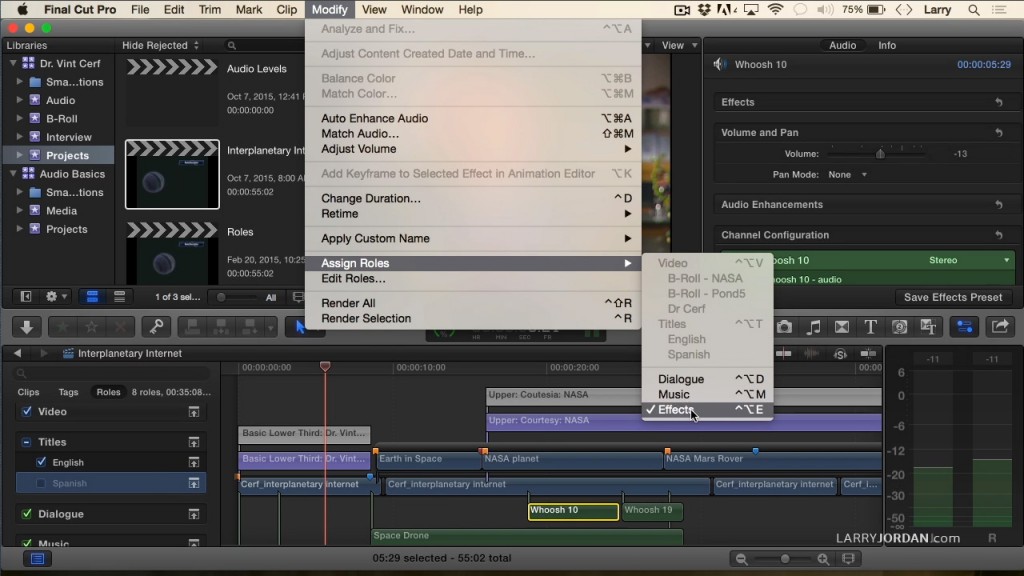 COURSE OUTLINE
Class 1 – Audio Basics (TRT: 38:00)
Key audio definitions
Setting levels and pan
Adding keyframes
Working with multichannel audio
Using Roles
Exporting master files and stems
Class 2 – Advanced Audio (TRT: 28:29)
Apply and modify audio filters
Learn how to use key audio filters
Learn how to use compound clips for audio
Repair problem audio
Send files to and from Adobe Audition
Class 3 – Edit, Repair and Mix Audio in Adobe Audition (TRT: 65:00)
Overview to the Audition interface
Edit and organize Timeline clips
Add fades and changing fade shapes
Synchronize ADR with on-set dialog
Repair problem audio – hum, clicks, distortion and more
Use the Track Mixer
Create submixes for filters and stems
Test the final mix for frequency and amplitude issues