248: The Basics of Editing in Premiere Pro CC
248: The Basics of Editing in Premiere Pro CC
There's nothing harder than learning a new, complex piece of software. This webinar is designed for everyone who wants to learn Adobe Premiere Pro CC – it illustrates all the basics of editing in less than one hour
- OR -
Presented: March 7, 2018
Several times each month, Larry Jordan presents a live, on-line, video training webinar discussing issues related to video editing and post-production. For a list of upcoming webinars, click here.
Duration: 53:25
Download file size: 781 MB (ZIP file)
Format: QuickTime movie (HD: 1280 x 720)
DOWNLOAD NOTE: After you complete the store checkout process, you will see a Download Link on the Order Confirmation page. This link allows you to download the product to your computer. You are given four attempts to download the file. Since this title is downloaded, a CD/DVD will not be shipped to you.
COURSE DESCRIPTION
There's nothing harder than struggling to learn a new, complex piece of software. This webinar is designed for everyone who wants to learn Adobe Premiere Pro CC. It covers all the basics of editing in one session and illustrates everything you need to know to easily start editing your own projects – all in less than one hour.
Join host, Larry Jordan, as he explains how to:
Create a new project and where to store it
Manage media
Import media
Organize and review media
Edit clips into a sequence
Trim clips
Add dissolves
Add titles
Export your sequence as a master file
AUDIENCE LEVEL
This is a beginning-level session. You don't need to know anything about Premiere to follow along. This session is delivered as a QuickTime movie, so you don't need to own the software to watch this.
CHAPTER MARKERS
To help you quickly find the information you need, we include chapter markers in the QuickTime download  to simplify navigation. Click here to learn how to display them in your download.
CONTENT OUTLINE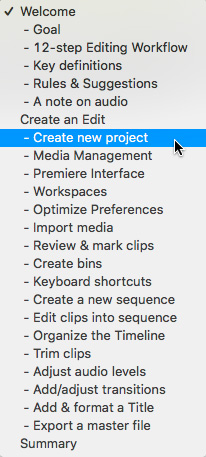 Welcome
  – Goal
  – 12-step editing workflow
  – Definition of key terms
  – Suggestions on using Premiere
  – A note on audio
Create an Edit
  – Create a new project
  – Media management
  – Explore the Premiere interface
  – Workspaces
  – Optimize preferences
  – Import media
  – Review and mark clips
  – Create bins
  – Essential keyboard shortcuts
  – Create a new sequence
  – Edit clips into a sequence
  – Organize clips in the Timeline
  – Trim clips
  – Adjust audio levels
  – Add/adjust transitions
  – Export a master file
Summary