237: How to Mix Adobe Premiere Pro Projects in Adobe Audition
237: How to Mix Adobe Premiere Pro Projects in Adobe Audition
Presented by Larry Jordan, this webinar covers the entire workflow of mixing the audio from a Premiere Pro project in Adobe Audition.
- OR -
Presented: Nov. 1, 2017
Several times each month, Larry Jordan presents a live, on-line, video training webinar discussing issues related to video editing and post-production. For a list of upcoming webinars, click here.
Duration: 54:03
Download file size: 434 MB (Downloaded ZIP file)
Format: QuickTime movie (HD: 1280 x 720)
DOWNLOAD NOTE: After you complete the store checkout process, you will see a Download Link on the Order Confirmation page. This link allows you to download the product to your computer. You are given four attempts to download the file. Since this title is downloaded, a CD/DVD will not be shipped to you.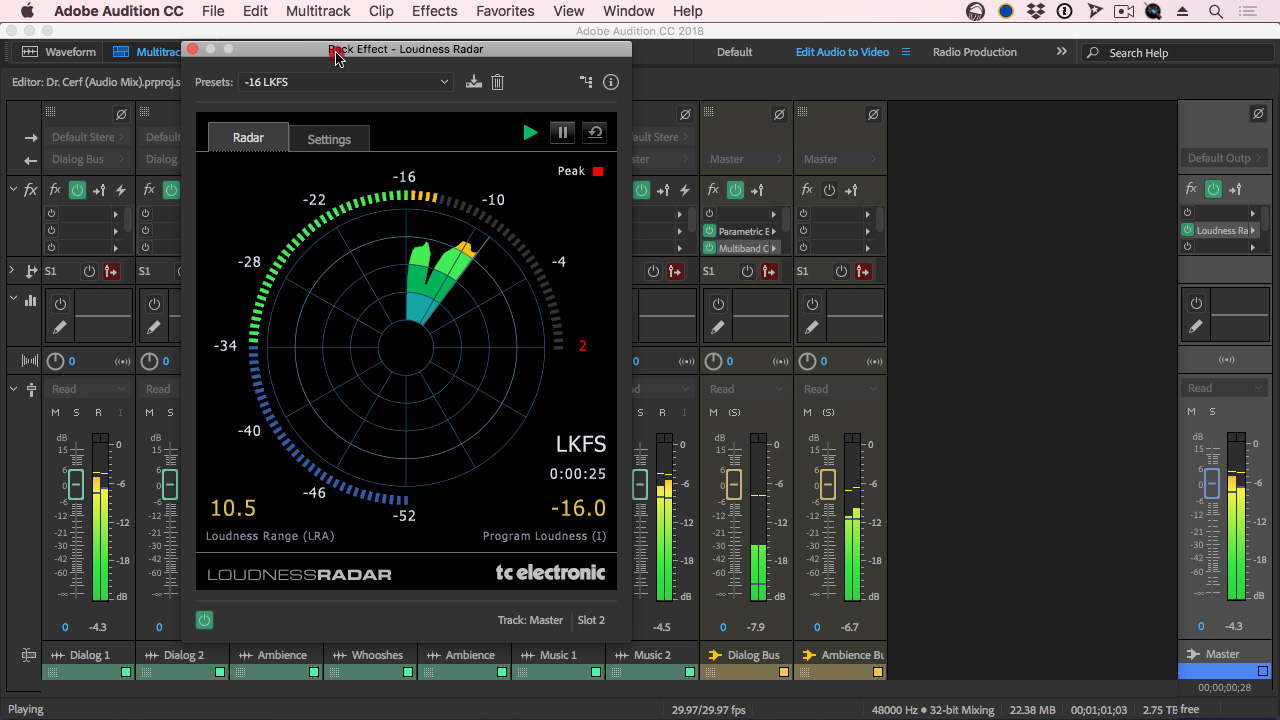 (Click to view a larger image.)
COURSE DESCRIPTION
You know you can improve the sound of your Adobe Premiere Pro CC projects if you mix them in Adobe Audition – but how? Lisa H. suggested this webinar, when she wrote: "I don't know exactly how to use Audition but I know it's powerful and want to learn."
Hosted by Larry Jordan, this session covers:
How to move individual clips to Audition for repair and why this is a bad idea
How to move projects from Premiere to Audition
How to set up a project (called a "Session") in Audition for mixing
How to see the video from Premiere in Audition
How to clean up audio problems
How to use the Essential Sound panel
How to use the new Auto-Duck feature
How to use buses (submixes) to simplify the mix
How to apply essential audio filters (effects)
How to make sure your audio levels are good
How to send an Audition session back to Premiere
In other words, this webinar covers the entire workflow of mixing the audio from an Adobe  Premiere Pro CC project in Adobe Audition CC.
NOTE: Due to technology constraints with our webinar software, you won't be able to hear the audio Larry is mixing. Which is why session this concentrates on process and technique, not adjusting the actual mix.
AUDIENCE LEVEL
This beginning-level session requires no knowledge of Audition, though some knowledge of Premiere will be helpful. This session is delivered as a QuickTime movie, so you don't need to own the software to watch this.
CHAPTER MARKERS
To help you quickly find the information you need, we include chapter markers in the QuickTime download  to simplify navigation. Click here to learn how to display them in your download.
CONTENT OUTLINE


Welcome
  – Goals
  – Definitions
  – Today's agenda
Audition Demo
  – Interface overview
  – Workspaces
  – Audio meters
  – Key editing tools
  – Key Audition concepts
Premiere Pro Demo
  – Project overview
  – Send a clip or sequence to Audition
  – How Audition displays a sequence
  – Relabel track names
  – Add a video track
  – Display video timecode
  – Enable auto-ducking
  – The Essential Sound Panel
  – Create a bus (submix)
  – Zoom the timeline vertically
  – Add audio fades and change fade shape
  – Sync audio to video
  – The Mixer
  – Add audio effects (filters)
  – Parametric EQ
  – Multiband Compressor
  – Changing clip levels
  – Loudness Radar
  – Output a mix
  – Verify final levels are within spec
Is Audition worth the work?
Summary
Audience Questions
Wrap-up