223: Multicam Editing in Final Cut Pro X
223: Multicam Editing in Final Cut Pro X
This session covers everything from planning and shooting to editing multicam video. This is designed to enable you to successfully create, edit and modify multicam clips inside Apple Final Cut Pro X.
- OR -
Presented: May 24, 2017
Several times each month, Larry Jordan presents a live, on-line, video training webinar discussing issues related to video editing and post-production. For a list of upcoming webinars, click here.
Duration: 56:21
Download file size: 583 MB (Downloaded ZIP file)
Format: QuickTime movie (HD: 1280 x 720)
DOWNLOAD NOTE: After you complete the store checkout process, you will see a Download Link on the Order Confirmation page. This link allows you to download the product to your computer. You are given four attempts to download the file. Since this title is downloaded, a CD/DVD will not be shipped to you.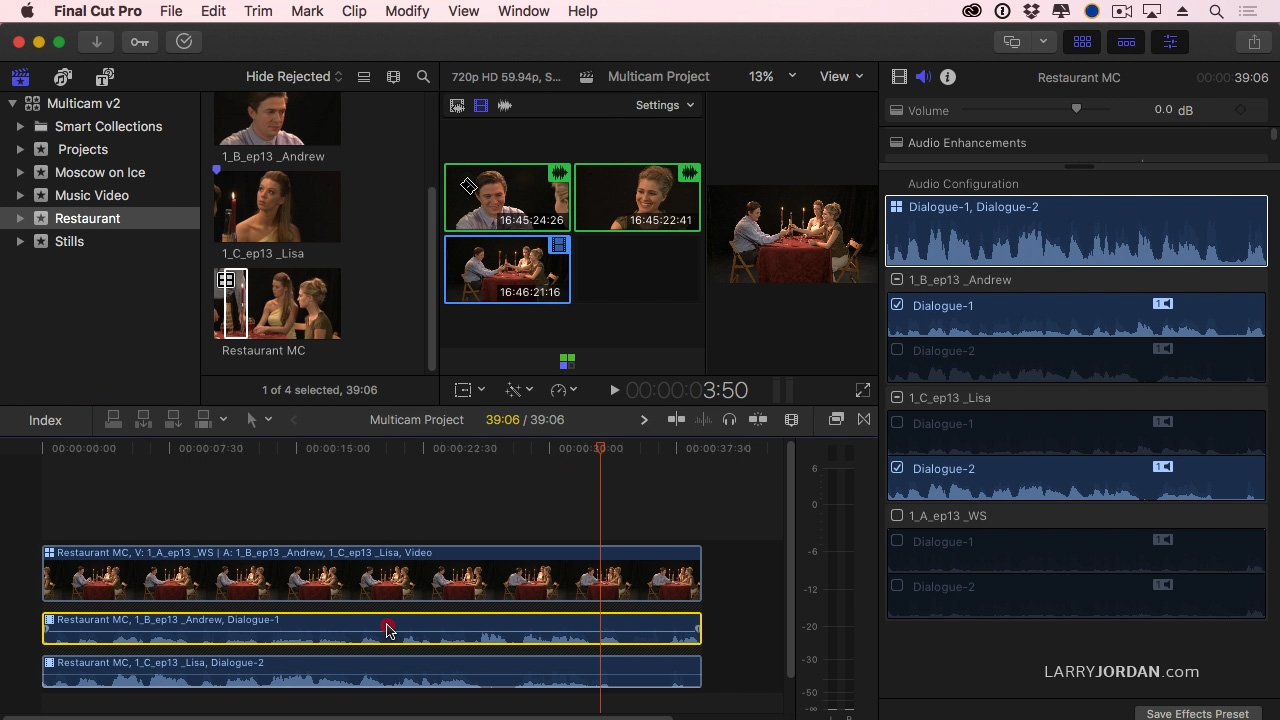 (Click to view a larger image.)
COURSE DESCRIPTION
NOTE: It's been almost two years since I've done a webinar on multicam editing in Final Cut Pro X. With the new interface, and lots of new features, its time to take another look.
Multicam shooting records an event using multiple cameras. Multicam editing allows us to see all those images at the same time as we edit the show. This allows us to quickly compare shots and pick the best one for our story. As cameras get less expensive and editing software gets more powerful, multicam shooting is becoming the norm, not the exception.
This session covers:
Multicam Basics – Things you need to know
Tips on shooting multicam events that save time in editing
File organization before importing
File import and when to create proxies
Modify clip metadata to simplify multicam organization
Build, sync and modify a multicam clip
Integrate double-system sound
Edit and trim multicam edits
Secrets of the Angle Editor
The Angle Viewer and bank switching
Effects and multicam clips
Special uses of multicam editing
At the end of this session, you'll know everything you need to know to successfully create, edit and modify multicam clips inside Apple Final Cut Pro X.
AUDIENCE LEVEL
This intermediate session is designed for editors with some Final Cut Pro X experience that want to learn how to edit video using multicam techniques. This session is delivered as a QuickTime movie, no other software is required to watch this session.
CHAPTER MARKERS
To help you quickly find the information you need, we included chapter markers in the downloaded QuickTime movie for easy navigation. Click here to learn how to display them in your download.
CONTENT OUTLINE

Welcome & Agenda
Multicam Basics

What is a Multicam?
Multicam Workflow
Definitions
Multicam Specs
Storage is critical to Multicam editing
Storage bandwidth
Typical data rates
Codec compression
Seek time

Multicam Shooting Tips

Codecs should match
When to use proxies
Syncing is required
Red Giant "PluralEyes"

File Organization & Import
Import Media

Activity Monitor
Import Media
Configure import settings
Switch proxies on/off
Set clip metadata
How to determine if proxy media exists

Build & Edit a Multicam Clip

Determine clip order
Sync on Timecode
Sync on markers
Sync on audio
Add new angle and sync clip
Combine clip segments
Edit a Multicam clip
Trim a Multicam clip
Change shots within the edit
Remove unwanted edits

Angle Editor

Set angle monitors
Move & sync clips
Determine clip display order

Angle Viewer

Bank switching
Customize layout

Integrate Multichannel Audio
Create a Multicam of Stills
Parent/Child Relationships
Summary
Audience Questions