216 – Dive Deeper Into Apple Motion 5.3
216 – Dive Deeper Into Apple Motion 5.3
This is Part 2 in our six-part in-depth look at Apple Motion 5.3. Hosted by Larry Jordan, this session covers graphical elements, drawing tools, the Inspector, filters and tips to solve problems.
- OR -
Presented: Mar. 8, 2017
Several times each month, Larry Jordan presents a live, on-line, video training webinar discussing issues related to video editing and post-production. For a list of upcoming webinars, click here.
Duration: 56:38
Download file size: 623 MB (Downloaded ZIP file)
Format: QuickTime movie (HD: 1280 x 720)
DOWNLOAD NOTE: After you complete the store checkout process, you will see a Download Link on the Order Confirmation page. This link allows you to download the product to your computer. You are given four attempts to download the file. Since this title is downloaded, a CD/DVD will not be shipped to you.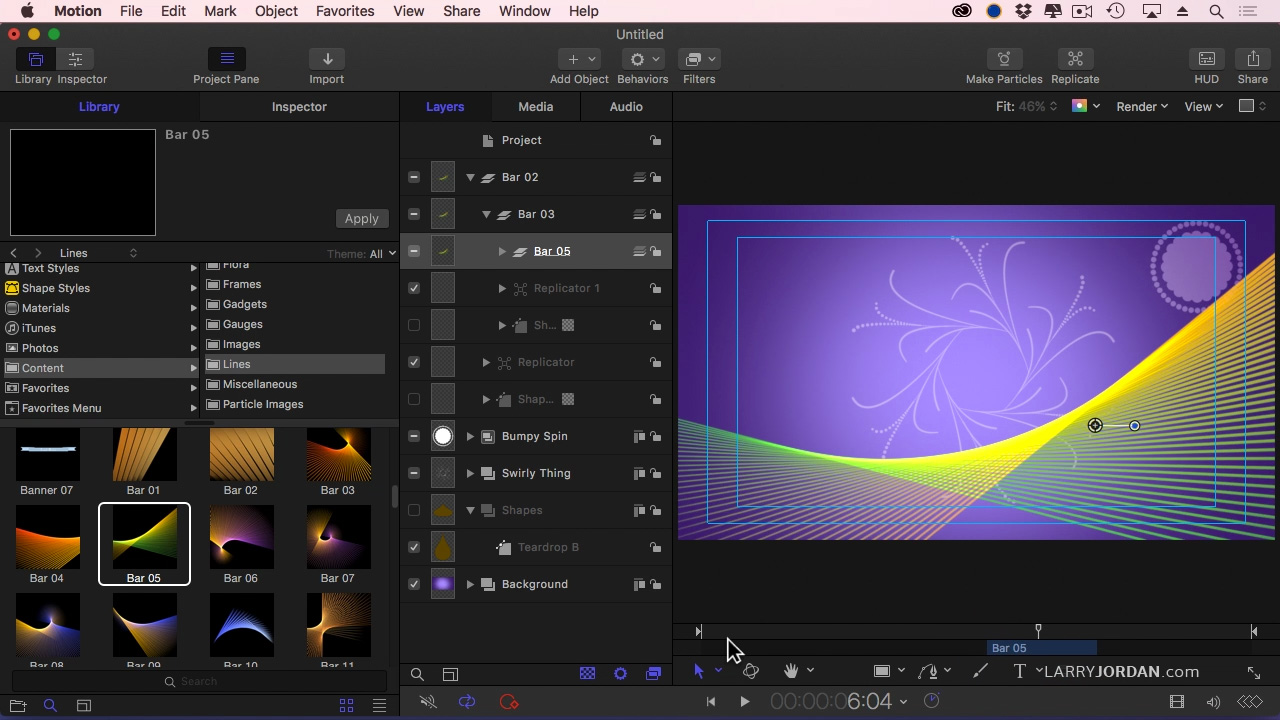 [ Click to see larger image.]
COURSE DESCRIPTION
This is the second part in a 6-part series examining Apple Motion 5.3.x.
Here's the link to our six-part Motion Bundle that contains this episode.
Whether you use Apple Final Cut Pro X, Adobe Premiere Pro CC, or any other video editing software, you can create high-quality motion graphics using Apple Motion. Last week, we began a five-part series on the latest version of Apple Motion – v.5.3. This week, we build on that foundation and head deeper into the application.
Whether you are new to Motion, or just want help figuring out where everything moved, this session is for you. This session covers:
The Inspector
Add and Adjust Filters
Additional Library Content
Drawing Tools
Intro to Masks
Intro to Particles
Tips to Fix Problems
AUDIENCE LEVEL
This is a beginning-level session, designed to introduce Motion to Final Cut Pro X and other video editors. You don't need to own Motion to watch this training, but it is strongly encouraged that you watch Part 1 of this series before watching this movie.


SPECIAL FEATURE
To help you quickly find the information you need, we included chapter markers in the download version for easy navigation. Click here to learn how to display them in your download.
CONTENT OUTLINE
Goals for training
Define key terms
Create default project preset
  – Create a new project
  – Create a new preset
  – Set the preset as a default
When Things Go Wrong
  – Can't see images in Viewer
  – Viewer displays strange colors
  – Elements move on their own
Backgrounds & Other Library Content
  – Interface Review
  – Where backgrounds are stored
  – Searching the Library
  – Add elements into a project
  – Using and reorganizing Groups
  – 2 Different Color Pickers
  – Animated Drawings
  – Element placement preference setting
  – More on blend modes
  – Animated gadgets
  – Animated gauges
  – Animated lines
Drawing Tools
  – Geometric Drawing Tools
  – Paint Brush and Line Styles
The Inspector
  – Removing accidental keyframes
  – Add / Modify / Format Text
  – Filters and stacking order
The Play Range
  – Rendering
  – Set and modify the Play Range
Intro to Masks
  – Geometric masks
  – Mask Blend modes
  – Bezier masks
  – B-spline masks
Into to Particle Emitters
Summary