206: Tips, Tricks & Techniques for Final Cut Pro X
206: Tips, Tricks & Techniques for Final Cut Pro X
This session presents a variety of little-known Final Cut Pro X tips and techniques that showcase new ideas, new ways to work faster, and new ways to add some fun to your editing. This session is all about: "How Do I Do This?"
- OR -
Presented: Oct. 12, 2016
Several times each month, Larry Jordan presents a live, on-line, video training webinar discussing issues related to video editing and post-production. For a list of upcoming webinars, click here.
Duration: 50:05
Download file size: 512 MB (Downloaded ZIP file)
Format: QuickTime movie (HD: 1280 x 720)
DOWNLOAD NOTE: After you complete the store checkout process, you will see a Download Link on the Order Confirmation page. This link allows you to download the product to your computer. You are given four attempts to download the file. Since this title is downloaded, a CD/DVD will not be shipped to you.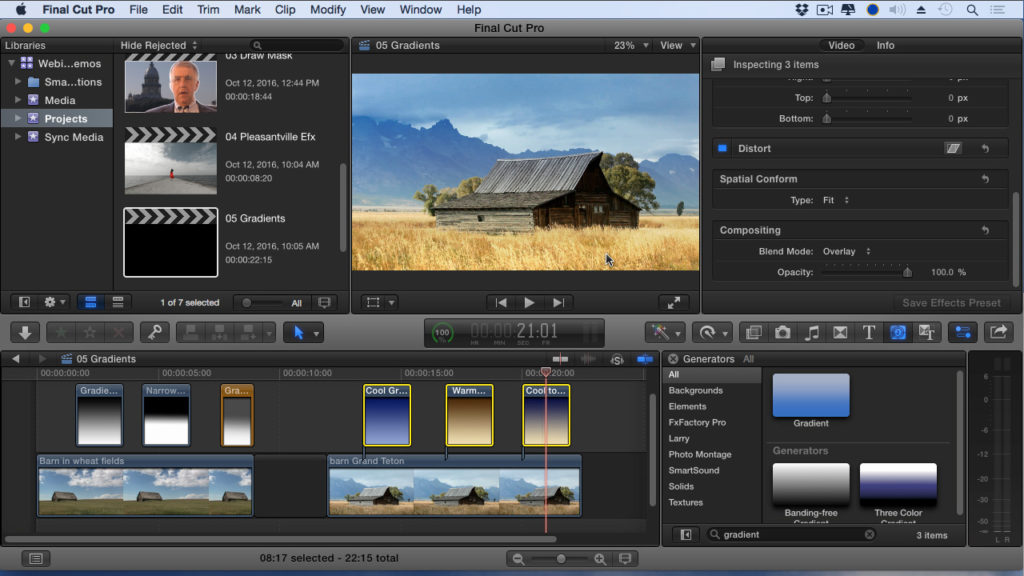 (Click to view a larger image.)
COURSE DESCRIPTION
This session presents a variety of little-known Final Cut Pro X tips and techniques that showcase new ideas, new ways to work faster, or new ways to add some fun to your editing.
During this session, host Larry Jordan covers more than a dozen specific techniques, including:
How two editors can collaborate to share clips and logging data
How to create a vertical project
A variety of masks and color correction techniques
How to use the Draw Mask
How to replace an over-exposed, "blown-out," window
How to punch up an exterior landscape shot
How to position 3D text
And many others
This session is all about: "How Do I Do This?"
AUDIENCE LEVEL
This intermediate-level course is designed for editors with a basic knowledge of Final Cut Pro X. (This session is presented as a QuickTime movie, no other software is required for viewing.)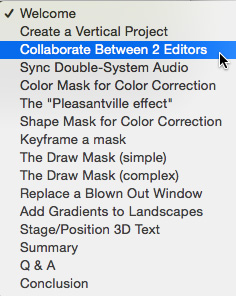 CHAPTER MARKERS
To help you quickly find the information you need, we included chapter markers in the downloaded QuickTime movie for easy navigation. Click here to learn how to display them in your download.
CONTENT OUTLINE
Demo: Create a vertical project
Demo: Share clips and logging data between editors
Demo: Syncing double-system sound
Demo: Create a color mask
Demo: Create the "Pleasantville effect"
Demo: Adjust a portion of the screen
Demo: Separate foreground from background
Demo: Replace a blown-out window
Demo: Add gradients to landscapes
Demo: Stage/Position 3D text
Audience Questions and Answers