182: 4K Video, the iPhone 6s and Final Cut Pro X
182: 4K Video, the iPhone 6s and Final Cut Pro X
The brand-new iPhone 6s now shoots 4K video! But, what do you need to know to shoot, transfer, edit and stabilize this new format? In this in-depth session, Larry Jordan explains everything you need to know to work with 4K video in Final Cut Pro X.
- OR -
Presented: November 11, 2015
Each week, Larry Jordan presents a live, on-line, video training webinar discussing issues related to video editing and post-production. For a list of upcoming webinars, click here.
Duration: 51:04
File size: 700 MB (ZIP file)
Format: QuickTime movie (HD: 1280 x 720)
DOWNLOAD NOTE: After you complete the store checkout process, you will see a Download Link on the Order Confirmation page. This link allows you to download the product to your computer. You are given four attempts and 10 days to download the file. Since this title is downloaded, a CD/DVD will not be mailed to you.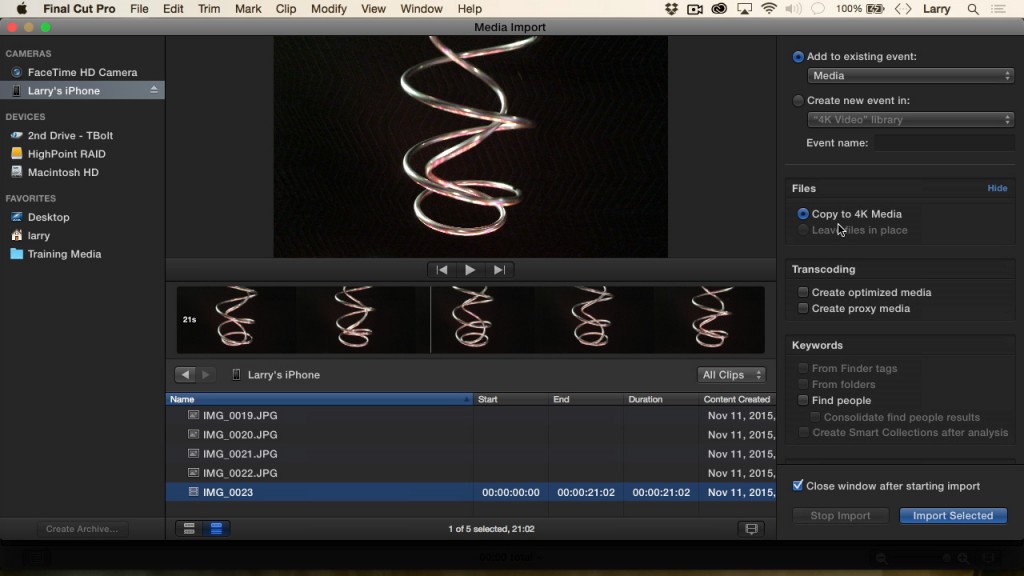 DESCRIPTION
The iPhone 6s and 6s Plus both shoot 4K video. Imagine, an iPhone shooting 4K video! But… how? What do you need to know to shoot, transfer, edit and output this incredible new video format using Final Cut Pro X?
In this webinar, Larry Jordan illustrates everything you need to know to shoot, transfer and edit 4K video using iPhones and Final Cut Pro X. During this webinar, you will learn:
How to enable 4K video on an iPhone 6s
How to transfer video to your computer
Optimizing your computer for 4K video
Storage and bandwidth requirements for 4K
How to edit 4K native files
How to edit and reposition 4K video into an HD project
How to use image stabilization
How and when to create optimized or proxy files
If you are debating whether now is the time to move up to 4K images, want to learn the best way to shoot 4K on an iPhone, you need to watch this webinar. Along the way, I'll also explain how to measure the speed of your hard disk and determine whether your system is large enough to support ultra-fast cache files in RAM.
AUDIENCE LEVEL
This intermediate-level session does not require extensive camera or editing knowledge, though either will be helpful. All you need to view this webinar is a web browser.


SPECIAL FEATURE
To help you quickly find the information you need, we included chapter markers in the QuickTime movie for easy navigation. Click here to learn how to display them in your download.
CONTENT OUTLINE
Showcase today's hardware
Define 4K video
DEMO: Adjust iPhone settings for 4K
DEMO: Shoot 4K video on an iPhone 6s
DEMO: Import 4K media
DEMO: Adjust Library Properties for media storage
DEMO: How to transcode (optimize) media
DEMO: How to test the speed of a hard drive
DEMO: How to add/remove generated media
DEMO: How to edit a 4K project
DEMO: How to edit 4K media into an HD project
DEMO: How and why to use image stabilization
Audience Questions & Answers