162: Faster Video Compression
162: Faster Video Compression
This in-depth, online session, hosted by Larry Jordan, explains how to pick the fastest video compression hardware, software, codecs and settings to compress your videos for YouTube faster and still retain image quality.
- OR -
Presented: June 10, 2015
Each week, Larry Jordan presents a live, on-line, video training webinar discussing issues related to video editing and post-production. For a list of upcoming webinars, click here.
Duration: 46:00
File sizes: 712 MB (ZIP files)
Format: QuickTime movie (HD: 1280 x 720)
DOWNLOAD NOTE: After you complete the store checkout process, you will see a Download Link on the Order Confirmation page. This link allows you to download the product to your computer. You are given four attempts and 10 days to download the file. Since this title is downloaded, a CD/DVD will not be mailed to you.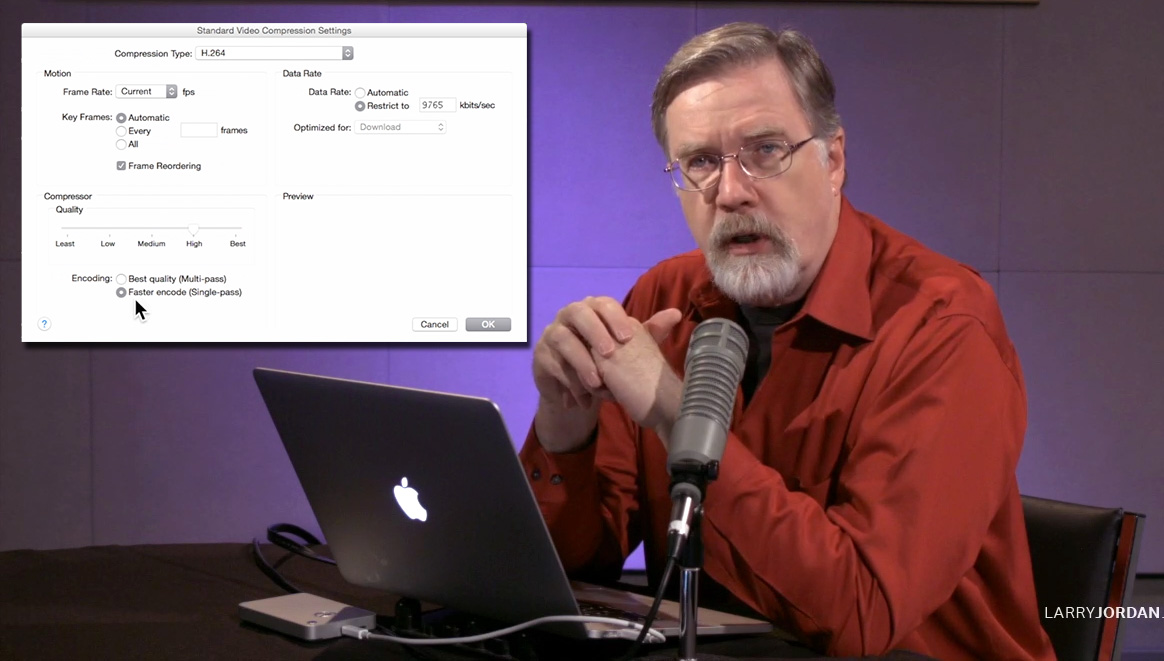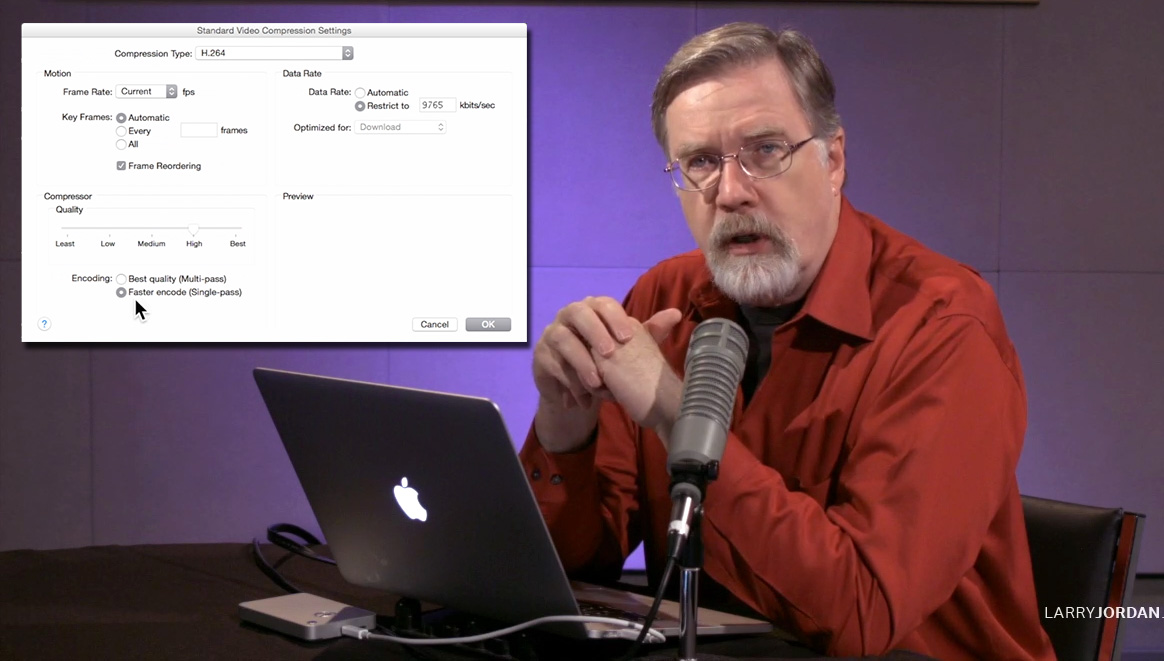 Click to see larger image.
DESCRIPTION
Video compression is much like watching paint dry. It takes a long time and its very boring.
In this session, host Larry Jordan shows how to compress your video faster by optimizing your settings and helping you understand what's going on "under the hood." Building on his tests looking at video compression speed and quality, Larry shares what he discovered in this session.
In this session, you'll learn:
Which hardware compresses video for YouTube the fastest
Which software compresses video for YouTube the fastest
Which codecs compress the fastest
How to optimize Adobe Media Encoder for speed
How to optimize Apple Compressor for speed
How and when to enable multiple instances of Compressor
If you want to learn how to compress faster with higher quality and get your work done sooner you need to watch this session.
AUDIENCE LEVEL
This session is designed for any video editor who wants to compress media more quickly. (This training only requires QuickTime Player to view.)


SPECIAL FEATURE
To help you quickly find the information you need, we included chapter markers in the QuickTime movie for easy navigation. Click here to learn how to display them in your download.
CONTENT OUTLINE
References to research articles
Pick the fastest hardware
Pick the fastest software
Thoughts on Adobe Media Encoder
Thoughts on Apple Compressor
When to use multiple instances in Compressor
Pick the fastest codec
Thoughts on compression settings
Optimizing Adobe Media Encoder
Optimizing Apple Compressor
Enabling multiple instances in Compressor
Compressor vs Final Cut Pro X
Customizing the YouTube compression setting
Questions and Answers