160: Get Started with Motion 5.2
160: Get Started with Motion 5.2
This session is designed for everyone who wants to learn Motion but needs a bit of help to get started. This explains everything you need to know to get started quickly and easily.
- OR -
Presented: May 27, 2015
Each week, Larry Jordan presents a live, on-line, video training webinar discussing issues related to video editing and post-production. For a list of upcoming webinars, click here.
Duration: 58:31
File size: 900 MB (ZIP file)
Format: QuickTime movie (HD: 1280 x 720)
DOWNLOAD NOTE: After you complete the store checkout process, you will see a Download Link on the Order Confirmation page. This link allows you to download the product to your computer. You are given four attempts and 10 days to download the file. Since this title is downloaded, a CD/DVD will not be mailed to you.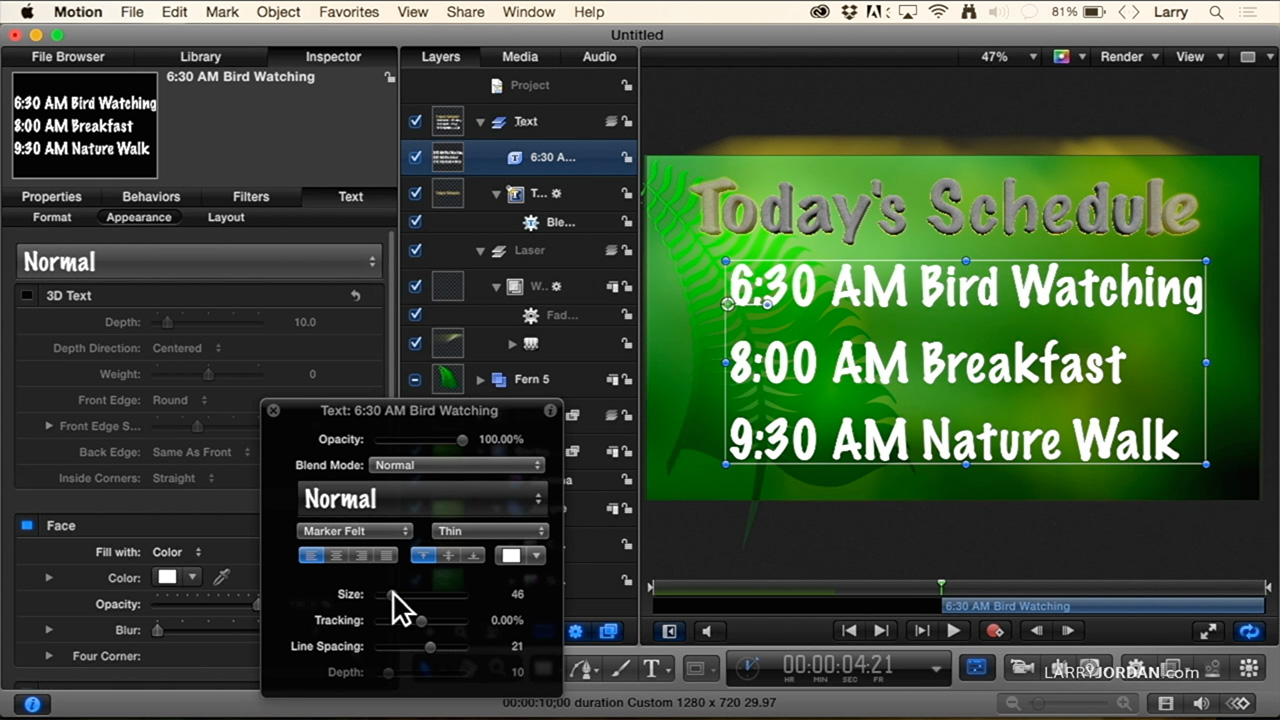 Click to see larger image.
DESCRIPTION
Motion is a fast and powerful program to make things move. (And, it's the underlying effects engine for Final Cut Pro X.) In fact, Motion can be used to create motion graphics for any editing application — Avid Media Composer, Adobe Premiere Pro, or Apple Final Cut Pro X. But, many editors can't figure out how it works.
This session starts at the very beginning and explains everything you need to know to get started animating text and moving graphics in Motion 5.2.
Join host, Larry Jordan, as he defines key Motion terms, then illustrates how to:
Create a new Motion project
Move around the interface
Review and use elements in the Motion library
Get elements to move using behaviors
Use the HUD or the Inspector
Change the look of elements using filters
Organize a project
Create and animate text
Export files for Avid, Premiere or Final Cut Pro X
AUDIENCE LEVEL
This beginning-level session is designed for any editors looking for easy ways to create stunning motion graphics. (This training only requires QuickTime Player to view.)

SPECIAL FEATURE
To help you quickly find the information you need, we included chapter markers in the QuickTime movie for easy navigation. Click here to learn how to display them in your download.
CONTENT OUTLINE
Define key terms
Explain what makes Motion different
How to create a new project
When to create a project vs. an FCP X template
Exploring the interface
Animating using Behaviors
Finding files using the File Browser
Applying Filters
Applying and comparing Blend Modes
Recording keyframes
Creating 3D text
Creating 2D text
Styling text
Animating text
Exporting projects for other applications
Exporting projects for Final Cut Pro X
Adding audio
Questions and Answers