148: Plug-ins for Adobe Premiere Pro CC
148: Plug-ins for Adobe Premiere Pro CC
- OR -
Presented: Jan. 28, 2015
Exciting New Plug-ins Create Amazing Effects
Each week, Larry Jordan presents a live, on-line, video training webinar discussing issues related to video editing and post-production. For a list of upcoming webinars, click here.
Duration: 43:00
File size: 450 MB (ZIP file)
Format: QuickTime movie (HD: 1280 x 720)DOWNLOAD NOTE: After you complete the store checkout process, you will see aDownload Link on the Order Confirmation page. This link allows you to download the product to your computer. You are given four attempts and 10 days to download the file. Since this title is downloaded, a CD/DVD will not be mailed to you.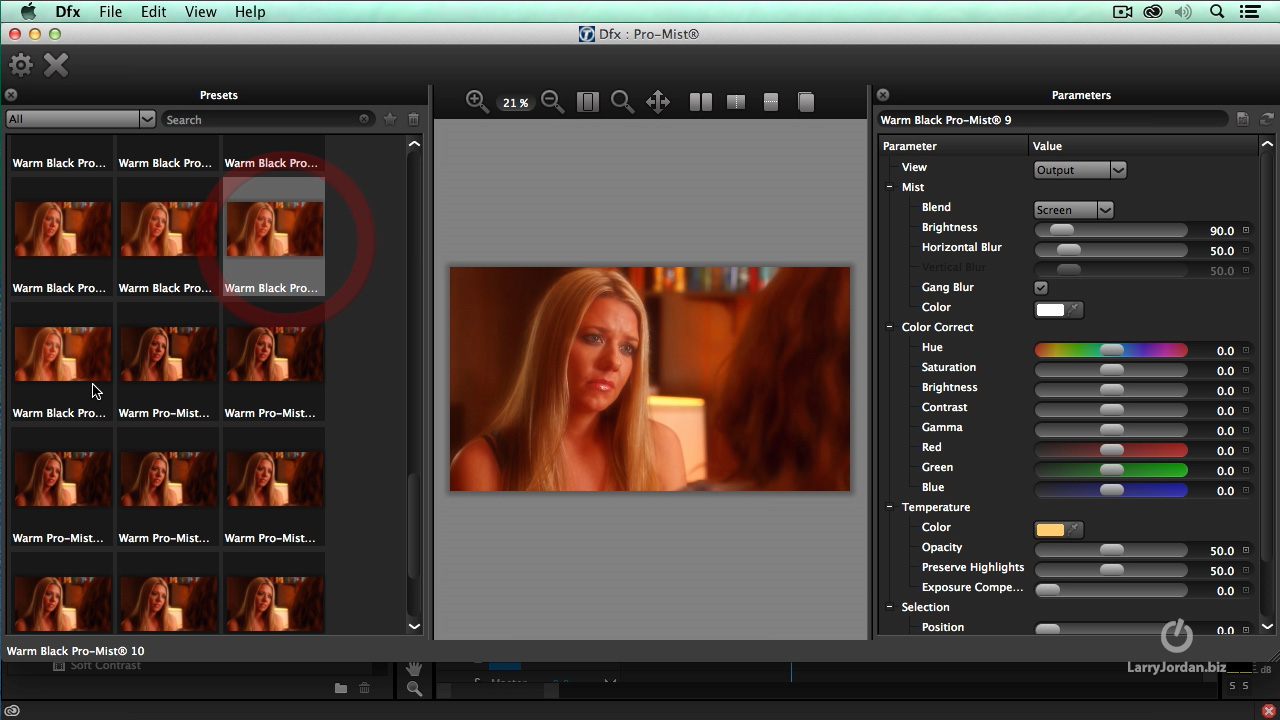 Click to see larger image.
TRAINING DESCRIPTION
There are hundreds of third-party plug-ins and applications that work with Premiere Pro CC; with more coming every day. These add effects and capabilities far beyond the basic features of the software created by Adobe. This course showcases some of the latest.
In this video training, master trainer Larry Jordan highlights great new technology that you can add to your system to improve the look of your projects. If you've been looking for ways to add life to a project, fix problems or add stunning new transitions, you need to see this webinar. What you can do with plug-ins today is nothing short of amazing.
Here's a list of the companies and plug-ins presented in this video:
Pond5: Royalty-free media extension
Red Giant: Mojo
Red Giant: Universe on-line community
Sheffield Softworks: Artitude
Tiffen: Dfx filter collection
CoreMelt: Lock & Load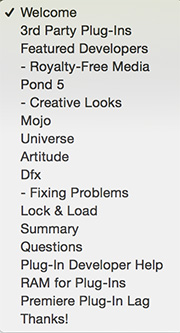 AUDIENCE LEVEL
This intermediate-level webinar is suitable for all Premiere editors who are looking for new ways to add life to their projects. (This video training plays as a QuickTime movie. You don't need to own any other software to watch this movie.)
BONUS FEATURE!

To help you quickly find the information you need, we included chapter markers in the QuickTime movie for easy navigation. Click here to learn how to display them in your download.
CONTENT OUTLINE
DEMO: Pond5 – Premiere Extension (royalty-free images, music and sound effects
DEMO: Red Giant – Mojo (color looks and effects)
DEMO: Red Giant Universe – Online effects community and plug-ins
DEMO: Sheffield Softworks – Artitude (painterly image effects)
DEMO: Tiffen – Dfx (2,000+ collection of lens filter effects)
DEMO: Coremelt – Lock & Load (image stabilization and shutter correction)