145: New Features in Adobe Software
145: New Features in Adobe Software
- OR -
Presented: Jan. 7, 2015
New Features in Premiere Pro, Audition, Prelude, and Adobe Media Encoder
Each week, Larry Jordan presents a live, on-line, video training webinar explaining subjects related to video editing and post-production. For a list of upcoming webinars, click here.
Duration: 51:45
File size: 365 MB (ZIP file)
Format: QuickTime movie (HD: 1280 x 720)
DOWNLOAD NOTE: After you complete the store checkout process, you will see aDownload Link on the Order Confirmation page. This link allows you to download the product to your computer. You have four attempts and 10 days to download the file. Since this title is downloaded, a CD/DVD will not be mailed to you.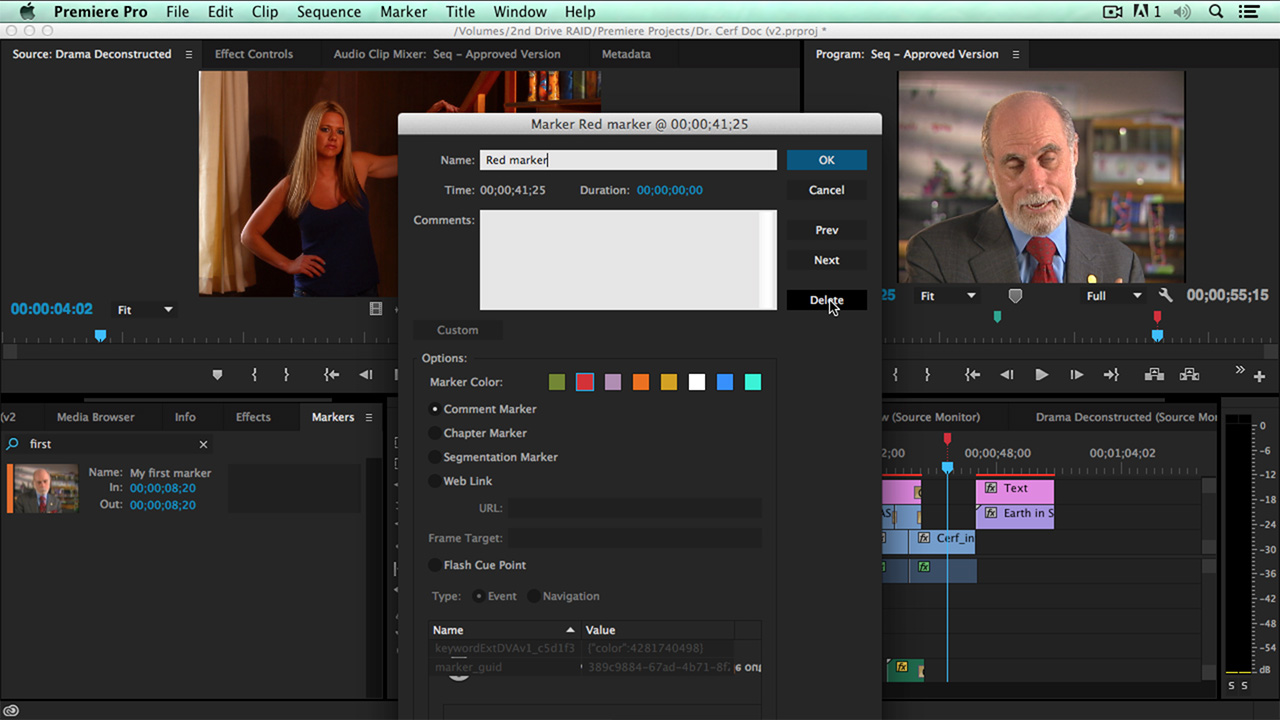 Click to enlarge image.
TRAINING DESCRIPTION
Adobe released updates to all their video and audio software in October and December, 2014. This session showcases the new features in:
Adobe Premiere Pro CC
Adobe Audition CC
Adobe Prelude CC
Adobe Media Encoder
Host, Larry Jordan, shows how to:
Use Prelude to log media
Create a Rough Cut ("selects reel") in Prelude
Send that Rough Cut to Premiere, or FCP 7
Use the improved search in Premiere
Use the improved markers in Premiere
Compress Premiere projects in Media Encoder
Use the new compression options in Media Encoder
and much more!
This webinar also takes a more detailed look at how to use Adobe Prelude CC as a media logging application for either Premiere or Apple Final Cut Pro 7. If making the most of your editing software is important to you or your work, you need to see this session.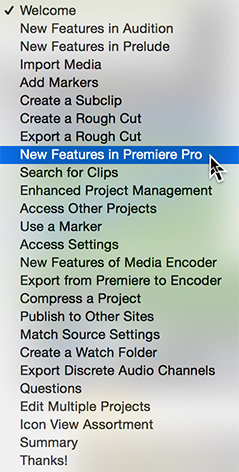 AUDIENCE LEVEL
This intermediate-level course is designed for existing Adobe Premiere editors who want to learn the new features in their editing software. This also takes a more detailed look at how to use Adobe Prelude.
BONUS FEATURE!

To help you quickly find the information you need, we also included chapter markers in the QuickTime movie for easy navigation. Click here to learn how to display them in your download.
CONTENT OUTLINE
Explain the new features in Adobe Audition CC
Explain the new features in Adobe Prelude CC
Demo: Show how to import media into Prelude
Demo: Show how to create custom logging markers
Demo: Show how to create a Rough Cut
Demo: Show how to export a Rough Cut to Premiere
Explain new features in Premiere Pro CC
Demo: Illustrate new Project Panel search functions
Demo: Illustrate new Timeline search functions
Demo: Show how to open additional projects in Premiere
Demo: Show how to export projects to Media Encoder
Explain the new features in Adobe Media Encoder
Demo: Show how to compress a Premiere project
Demo: Show how to publish a compressed file to YouTube, Viimeo, Creative Cloud or FTP
Demo: Show how to match the source media settings
Demo: Show how to compress a Premiere Project file
Demo: Show how to create a Watch Folder for Premiere projects
Demo: Show how to export multichannel audio as separate files
Demo: Show how to work with different sequences from different projects