143: Media Management in Final Cut Pro X
143: Media Management in Final Cut Pro X
Media management causes more stress for beginning editors than any other task in editing. If you organize your media properly at the beginning, the edit works great. If not, well, you end up spending more time chasing your errant media than you want to admit in public…
- OR -
Presented: Dec. 11, 2014
Everything You Need to Know to Get Started Properly
Each week, Larry Jordan presents a live, on-line, video training webinar explaining subjects related to video editing and post-production. For a list of upcoming webinars, click here.
Duration: 57:35
File size: 365 MB (ZIP file)
Format: QuickTime movie (HD: 1280 x 720)
DOWNLOAD NOTE: After you complete the store checkout process, you will see a Download Link on the Order Confirmation page. This link allows you to download the product to your computer. You have four attempts and 10 days to download the file. Since this title is downloaded, a CD/DVD will not be mailed to you.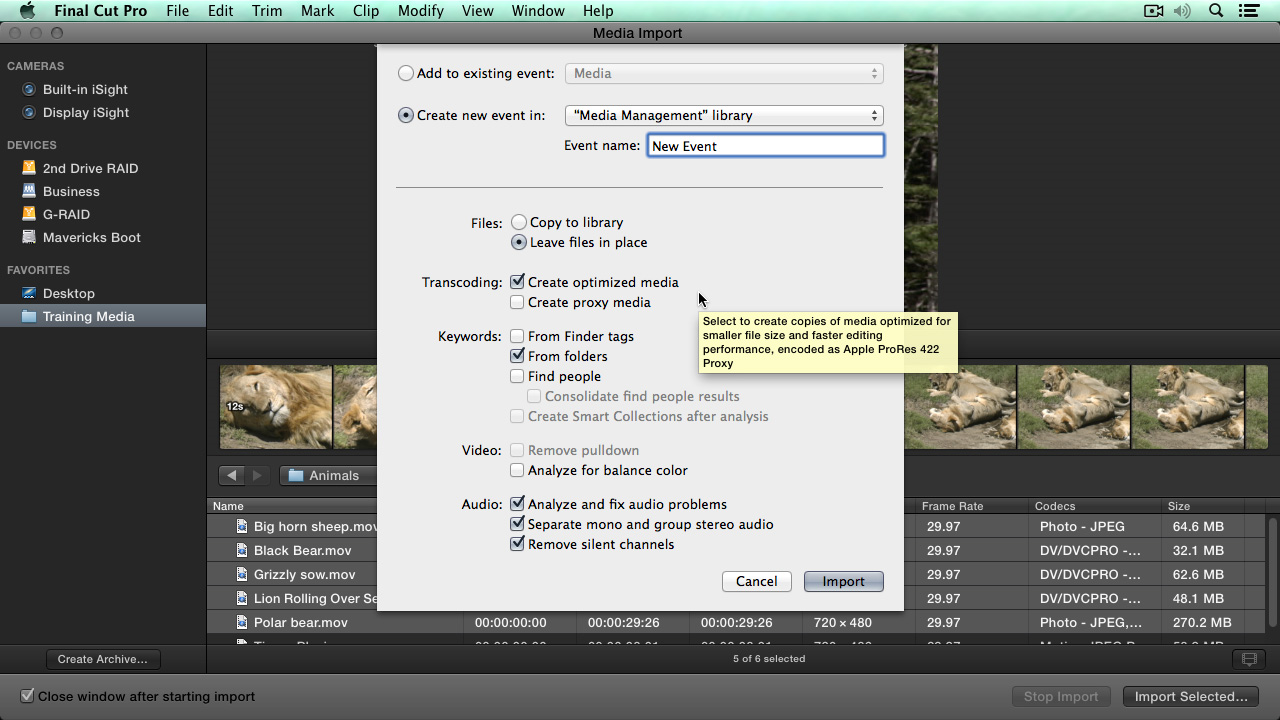 Click to enlarge image.
TRAINING DESCRIPTION
Media management causes more stress for beginning editors than any other task in editing. If you organize your media properly at the beginning, the edit works great. If not, well, you end up spending more time chasing your errant media than you want to admit in public…
In this session, host Larry Jordan starts at the beginning by clearly defining key terms and concepts. After building a basic understanding of the process, he illustrates how to set up your system to maximize efficiency and showcases specific techniques you can use in your own projects to keep your media under control and your stress levels down.
During this course you will learn:
Definitions of key terms
The difference between managed and external media and why you need to know
How to create a new library
How to create a new event
How to manage media between different libraries, events and projects
How to move events, projects and media
How to make backups
How to change library and project settings
and much more!
If you are struggling with your media, or if you want to be more efficient with storage, you need to watch this session.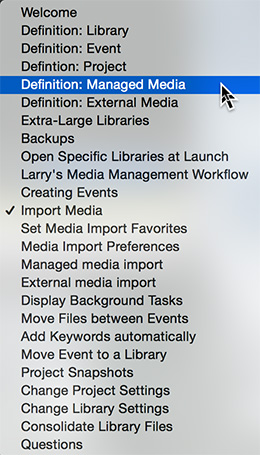 AUDIENCE LEVEL
This introductory-level course is designed for editors who are having problems understanding media in Final Cut Pro X. It's designed to answer basic organization and operation questions and provide a foundation for efficient editing and media management.
BONUS FEATURE!
To help you quickly find the information you need, we also included chapter markers in the QuickTime movie for easy navigation. Click here to learn how to display them in your download.
CONTENT OUTLINE
Definitions of key terms
The difference between managed and external media
Manage extra-large libraries
Larry's system for media management
Demo: How to create a new Library
Demo: How to open a specific library
Demo: How to create a new Event
Demo: How to import media
Demo: Define media import options
Demo: Convert managed to external media
Demo: Consolidate all media into one library for backup
Demo: Monitor and control background tasks
Demo: Move Libraries, Events, Projects and Media
Demo: Move vs. copying
Demo: Add keywords automatically
Demo: Create a Project Snapshot and why this is the best option
Demo: Change Library settings
Demo: Change Project settings
Demo: Convert Events to Libraries