089: Create a DVD or Blu-ray Disc with Adobe Encore CS6
089: Create a DVD or Blu-ray Disc with Adobe Encore CS6
Watch as master trainer Larry Jordan shows you the basics of creating a DVD in Adobe Encore. Surprisingly, the process starts long before you open Encore. Learn how to create a DVD menu in Photoshop. See how to export sequences in Premiere Pro. Then, learn how to assemble all the elements in Encore. Along the way, you'll discover the speed and power of dynamic
- OR -
Presented: Jan. 16, 2013
Learn a Workflow that Works!
Each week, Larry Jordan presents a live, online, video training webinar discussing issues related to video editing and post-production. For a list of upcoming webinars, click here.
Duration: 58:53
File size: 214 MB (ZIP file)
Format: QuickTime movie (HD: 1280 x 720)
DOWNLOAD NOTE: After you complete the store checkout process, you will see a Download Link on the Order Confirmation page. This link allows you to download the product to your computer. You are given three attempts and 10 days to download the file. Since this is a downloadable product, a CD/DVD will not be mailed to you.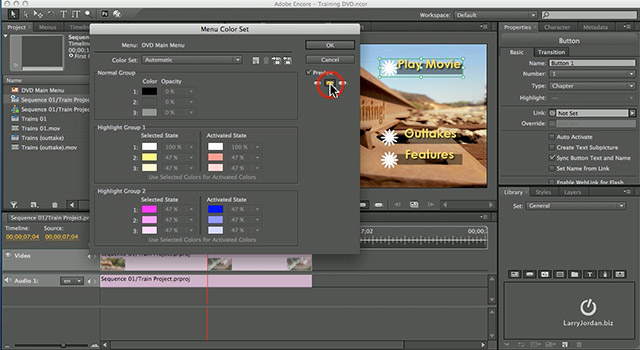 TRAINING DESCRIPTION
Despite all the marketing hype surrounding downloads, the worlds of DVD and Blu-ray Discs are still very active. Clients are still demanding DVDs and there is money to be made – if you know how to create them.
Watch as master trainer Larry Jordan shows you the basics of creating a DVD in Adobe Encore. Surprisingly, the process starts long before you open Encore. Learn how to create a DVD menu in Photoshop. See how to export sequences in Premiere Pro. Then, learn how to assemble all the elements in Encore. Along the way, you'll discover the speed and power of dynamic.
In this video tutorial, you will learn:
How to create a menu in Photoshop
How to design buttons in Photoshop that Encore knows how to use
How to export a sequence in Premiere to Encore
How to modify a Premiere sequence to have it automatically updated in Encore
How to create a DVD, or Blu-ray Disc, in Encore
How to test your disc
How to create the final DVD master
How to test your DVD master to be sure it works properly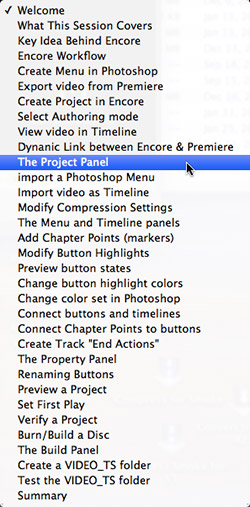 AUDIENCE LEVEL
This webinar is a beginning-level course designed for help new, or self-taught, editors learn how to create a DVD, or Blu-ray Disc. This assumes familiarity with video editing software. (You only need the ability to play QuickTime movies to watch this training.)
BONUS FEATURE!
To help you quickly find the information you need, we included chapter markers in the QuickTime movie for easy navigation. Click here to learn how to display them in your download.
Content Outline
Agenda
Encore workflow
Explaining Dynamic Linking
Learning key panels: Project, Properties, Menu, and Timeline
Answer audience questions
---
DEMO: Creating a DVD menu in Photoshop
DEMO: Creating Encore buttons in Photoshop
DEMO: Setting and modifying button highlight colors
DEMO: Exporting sequences from Premiere to Encore
DEMO: Using dynamic links to change and update Premiere sequences
DEMO: Import media into Encore
DEMO: Import menus into Encore
DEMO: Renaming buttons for clarity
DEMO: View and modify compression settings
DEMO: Add Chapter Points (markers)
DEMO: Add and modify button highlight colors
DEMO: Set First Play status
DEMO: Connect (link) DVD markers, buttons, menus, and timelines
DEMO: Add End Actions to tracks
DEMO: Preview a project inside Encore
DEMO: Verify an Encore project
DEMO: Burn/Build a disk
DEMO: Test the VIDEO_TS folder
SaveSave