036: Making Problems Disappear with Boris Continuum Complete
036: Making Problems Disappear with Boris Continuum Complete
In this webinar, Larry Jordan showcases ten filters and transitions that can help fix problem footage using Boris Continuum Complete v7.
- OR -
Presented: March 22, 2011
Ten filters and transitions that can fix problems and create magic.
Each week, Larry Jordan presents a live, online, training webinar discussing issues related to video post-production; often focused on Apple Final Cut applications. For a list of upcoming webinars, click here.
Duration: 57:43
File size: 201 MB (ZIP file)
Format: QuickTime movie (1280 x 720)
Important note: After you complete the store checkout process, you will see a Download Link on the Order Confirmation page. This link will allow you to download the product to your computer. You are given two attempts and 10 days to download the file. Since this is a downloadable product, there will not be a CD/DVD mailed to you.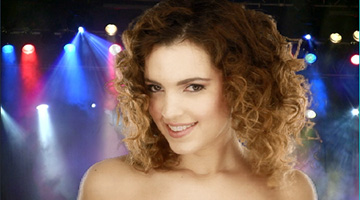 Tutorial Overview
In this webinar, Larry Jordan showcases ten filters and transitions that can help fix problem footage using Boris Continuum Complete v7.
Final Cut Pro has a wide range of filters and effects that ship with the product. However, what makes Final Cut truly amazing is that it allows other companies to create plug-ins that extend the power of the program far beyond its original design. One of these is Boris Continuum Complete, v7, published by Boris FX.
This software suite of tools contains over 200 transitions and filter effects that can create almost magical effects. In this webinar, Larry looks at the tools it provides to make things… disappear. What makes these tools even more helpful is that built into many of them is an automatic motion tracker that allows you to apply a correction, and have it automatically tracked where ever the subject moves in the frame.!
For example, use Wire Removal to remove a skin blemish from an actress that is turning her head. Or, remove a seagull that flies into frame and spoils the shot. Or, create a color grade where everything in the frame is black-and-white, except a person's face, then track that face as it moves in the frame.
Along the way, Larry shows you three transitions that don't exist in Final Cut, a better way to chroma-key than the filter built into FCP, how to smooth skin tones to reduce wrinkles, how to style the look of your video to make it look more like film, and how to add rack-focus blur effects to your footage.
In each of these cases, Larry shows you exactly the steps to take to create the exact same effects for yourself. He illustrates what works, and what to avoid. And he gives you clear before and after results so you can easily compare what each effect will look like.
Audience Level
This assumes a basic knowledge of Final Cut Pro. You do NOT need to own Boris Continuum Complete in order to watch this presentation. Boris Continuum Complete is sold separately from Final Cut Studio. You can learn more about it here: www.borisfx.com.
BONUS FEATURE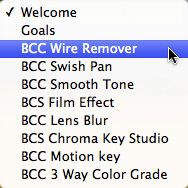 To simplify finding the information you need quickly, we have added chapter markers to help you easily navigate this tutorial. Click here to learn how to display them in your download.
Content Outline
DEMO: How to remove facial blemishes using automatic motion tracking and BCC Wire Removal
DEMO: How to smooth skin tone, and diminish wrinkles, using BCC Smooth Tone
DEMO: How to blend a dissolve with a wipe using the BCC Swish Pan transition
DEMO: How to easily change the look of video using BCS Film Effects
DEMO: How to blend a dissolve with a glow using the BCS Dissolve Glow transition
DEMO: How to add depth of field blur rack focus using BCC Lens Blur
DEMO: How to create a lens blur transition using BCC Lens transition
DEMO: How to chroma key footage using the BCS Chroma Key Studio
DEMO: When to use Light Wrap and when to use Matte Choker
DEMO: How to make an unwanted moving object in the frame disappear using BCC Motion Key
DEMO: How to color correct, and automatically motion track, a portion of an image using BCC 3-way Color Grade
The initial presentation of this webinar was sponsored by Boris FX.
SaveSave