Storage in Media 2015 Survey Results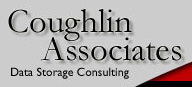 It will come as no surprise to read that "Digital storage plays a significant role in the professional media and entertainment industry."
But, just HOW significant?
Earlier this year, Coughlin & Associates, Inc., surveyed media professionals to learn their thoughts on a variety of digital media topics. Tom Coughlin, president of Coughlin & Associates, shared their findings with me, with permission to share them with you, as well.
NOTE: You can download a detailed summary of the 2015 Storage Survey here.
HIGHLIGHTS
The survey covered facilities from very small to very large, and has been conducted every year since 2009. There were 199 complete responses covering:
Episodic TV
Other TV
Feature Films
Shorts, Commercials and Trailers
Corporate Video
Webcasts
Games
Flash memory is the first choice for capturing camera native media (66%), followed by hard disks (21%). Magnetic tape went from first place in 2009 (34%) to second last (4%). The only medium used less than magnetic tape was film (1%).
The more people in a post-production facility, the less likely they are to use direct-attached storage (DAS).
DISTRIBUTION
When it comes to distribution, the industry is out of sync with the direction high-tech is taking us. The top six distribution formats for completed work are:
Internet (29%)
Hard disk drives (20%)
DVD Discs (17%)
USB Flash Sticks (13%)
Blu-ray Discs (8%)
Digital tape (7%)
It is interesting to me to see that DVDs rank #3 for distribution, even though software to create DVDs is no longer sold by Apple or Adobe.
ARCHIVING
Archiving, not surprisingly, is still a confused mess. However, the top four media used for long-term archiving are:
Digital tape (40%) – this would include LTO
External hard drives (28%)
Local network storage (16%)
Private or public cloud (5%)
SUMMARY
The survey provides a fascinating look at the state of storage in our industry. You can download the full 12-page summary – with lots more statistics – here.
Thanks, Tom, for sharing your survey with us.
---
Bookmark the
permalink
.