First Look: Keymand: Custom Keyboard Shortcut Control

Jan Smith sent me an email this week about this app:
"This is something that can really help workflow in FCP X and other applications…. This looks like a very cost-effective way to make editing more efficient."
So, I decided to take a look.
EXECUTIVE SUMMARY

Keymand is a new combined computer/iPad app that allows you to gather and organize any keyboard shortcuts and display them as a series of buttons on an iPad. Up to 256 shortcuts can be created for any Mac application, with no limit to the number of apps you can create shortcut panels for.
This software works for all Mac applications and utilities.
Settings are "stored on your iPad so they go where you go and are ready when you need them. The Keymand iPad app syncs with the computer through the Keymand DT app (a free download available at KeymandTech.com) and communicates all actions in real time. Keymand also includes 13 pre-built consoles for plug-and-play use. They include Finder, Mail, Calendar, Contacts, Dictionary, Preview, Photos, iTunes, Safari and more." (Keymand press release)
NOTE: This system does not currently support Windows applications or hardware.
Developer: Keymand Technology
Website: www.keymandtech.com
Price: $19.99 (US) available in the iOS App Store
INSTALLATION
This is an application in two parts:
Keymand, which is purchased from the iOS Store and runs on your iPad
Keymand DT, which is free and downloaded from the Keymand Technologies website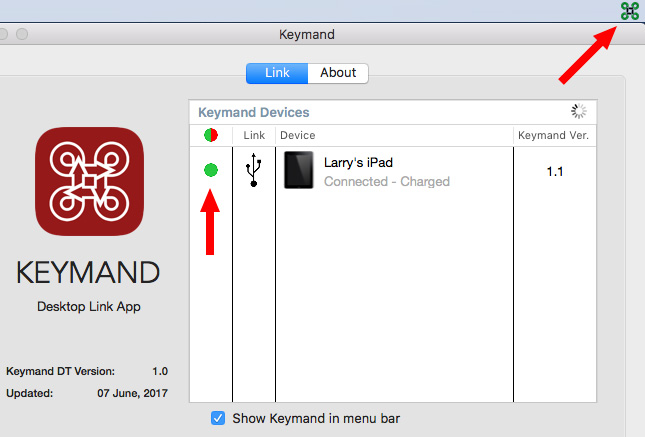 Both need to be installed. Then, the iPad needs to be connected to the computer via a USB cable. When the iPad and Mac are talking to each other, a green indicator appears in the Keymand app and, optionally, the menu bar at the top. At this point, the desktop app can be closed, as all the exciting stuff happens on the iPad.
NOTE: When I did this, my iPad started beeping continuously. After some research, I realized this was caused by a bad Lightning cable. I changed the cable and the beeping went away. Who knew a bad cable beeps?
HOW IT WORKS
Keymand allows up to four shortcut "panels" – each containing up to 64 shortcuts – per application. Out of the box, Keymand ships with shortcut panels that support the following Apple apps:
Finder
Apple Mail
Calculator
Calendar
Contacts
Dictionary
Font Book
iTunes
Notes
Photos
Preview
Safari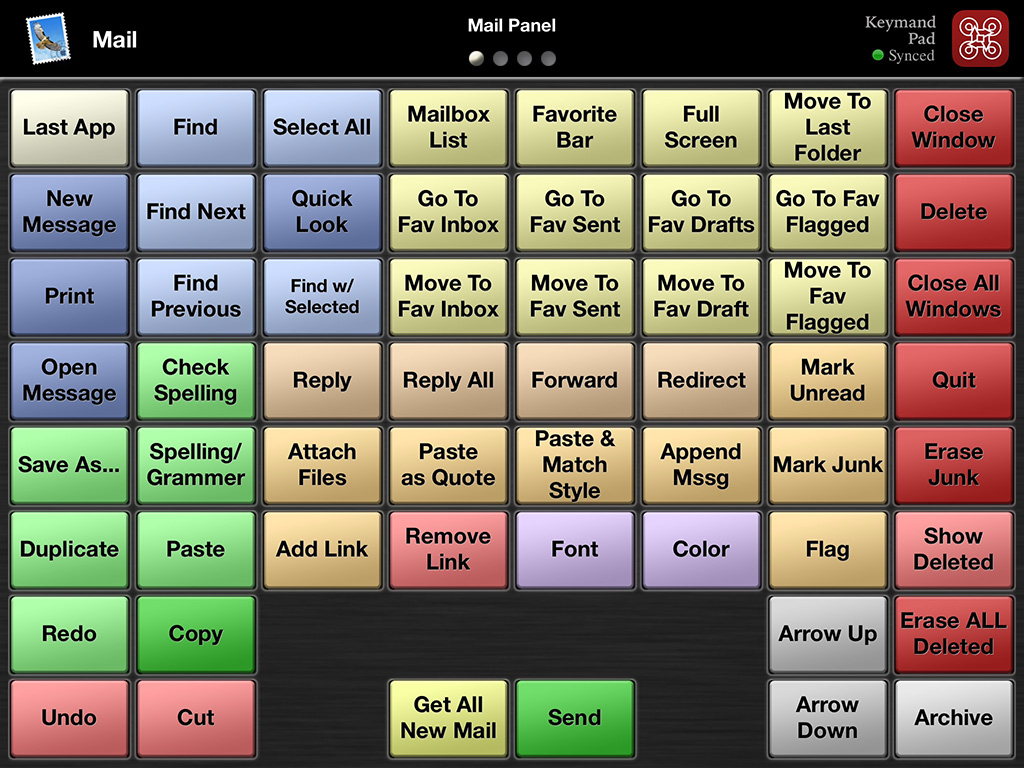 (Click image to see larger version.)
For example, these are the shortcuts it displays for Apple Mail; any of these can be customized for text, shortcut, position or color.
However, the app does not have any pre-built shortcuts for non-Apple apps. This is by intent. The whole point of this app is to allow each user to create their own custom shortcuts, based upon their personal style of working.
So, yes, this will take a few minutes to set up. But, the good news is that you get to create your own system which can be modified at any time, without having to fit your style of working into someone else's thoughts of how you OUGHT to work.
I like that.
CREATING A SHORTCUT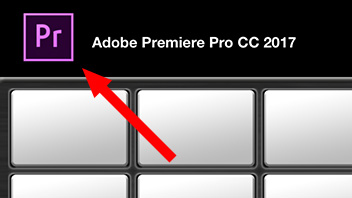 When an app is running on your Mac, and Keymand is connected and running on your iPad, you'll see that Keymand has already identified the Mac app in the top left corner of the display. This allows the software to link the shortcuts on the iPad with the application on your Mac.
NOTE: All shortcuts are stored on the iPad. This allows you to use the same shortcuts as you move from one edit system to another, without needing to redo work or update any files.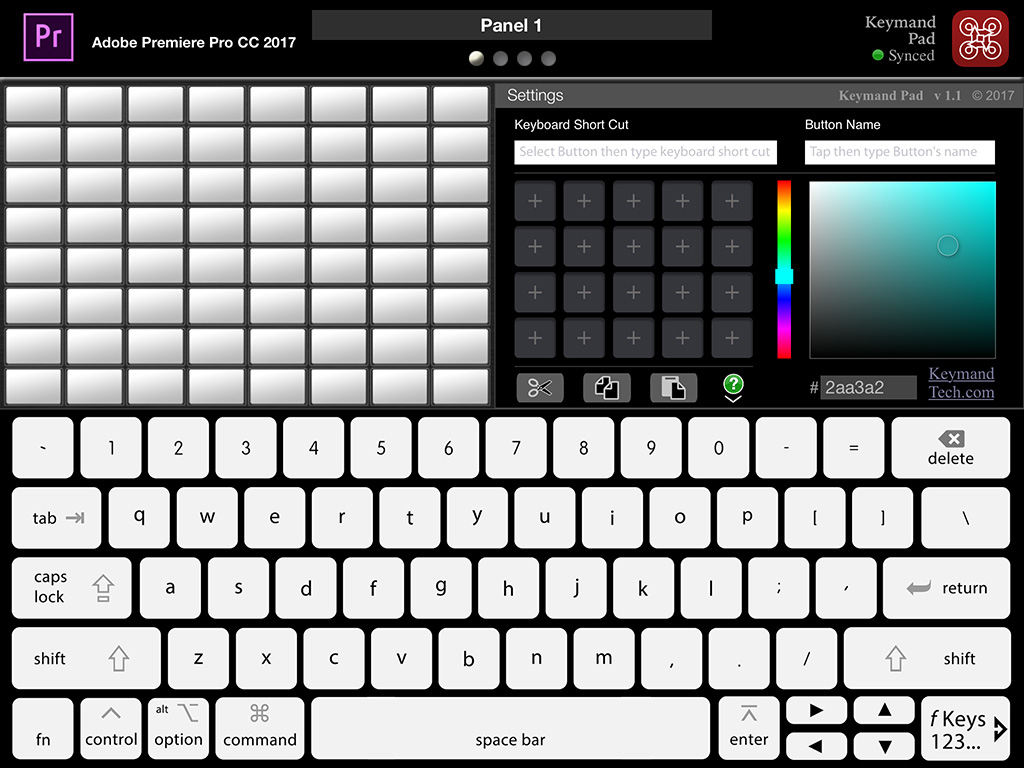 (Click image to see larger version.)
To create a new shortcut:
Tap the Keymand logo in the top right corner to switch into Edit mode. (Or pinch the iPad screen with two fingers.)
Tap a button to select it. If the button already has a shortcut assigned to it, this allows you to change it.
NOTE: Double-tap the logo to display the user manual.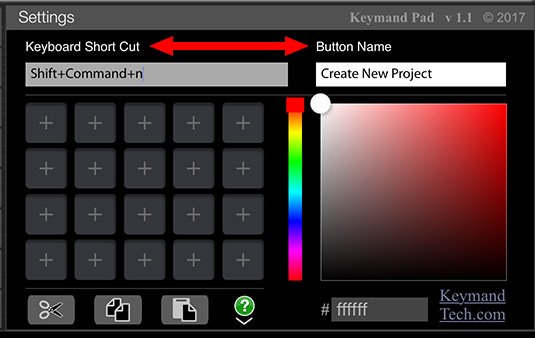 Tap the Keyboard Short Cut field to select it.
Type the shortcut you want to use for that button.
Tap the Button Name field to select it, then type the name you want to appear on the button.
NOTE: The Keyboard Short Cut field is automatically selected when you press a button. But, if you are blindly punching stuff to see what happens, as I was, you'll need to be sure to select this text field in order to enter a shortcut.
For this article, I'm using Premiere to create three shortcuts:
New Project
New Sequence
New Bin
NOTE: It is important to remember that we are not creating NEW shortcuts. We are mapping the existing shortcuts that Premiere uses to buttons displayed on the iPad. This means that we can either access a shortcut using the keyboard, or quickly tap the appropriate button displayed on the iPad.

When creating shortcuts, we can slide to a second screen to allow us to include function keys as well as the numeric keypad as the content of a button.
CHANGING COLORS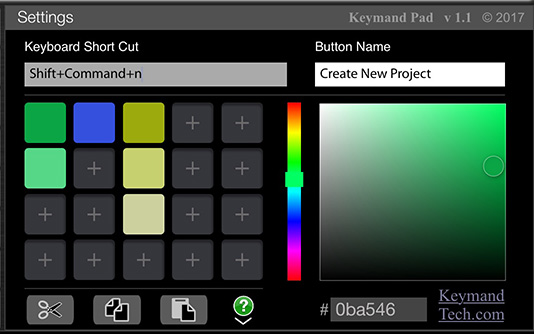 To change the color of a button:
Tap the button to select it
Slide around the Colors panel to find a color you like
Changes to a button are saved automatically, as soon as you make them.
As the screen shot above illustrates, the app has a 20-color swatch book immediately to the left of the color picker. Select a color, then press and hold the swatch button to which you want to assign the color. Here, I've added six colors and have empty spaces for 14 more.

Panels can be renamed by double-clicking on the name.
Move between panels by swiping left or right with two fingers, or tapping to the left or right of the panel name at the top.
A CONVERSATION WITH KEYMAND
David McGuire is CEO of Keymand. He and I had a conversation, via email, about this app.
Larry: Who did you design this app for?
David: I invented this app for me and all the "me's" out there who want more control over their work and are tired of redundant, and sometimes cumbersome workflows. My greatest frustrations were Avid's printed keyboard layout and memorizing a long list of keyboard shortcuts – shortcuts which often had conflicting functions in other apps. I just wanted to create and finish my work, not spend a large portion of my time interacting with the computer.
Larry: Why did you invent the app?
David: I started thinking in this direction about 15 or more years ago and looked into the sticker route then personalized printed keyboards. Both of them had major downsides. But seeing that other iPad apps were able to have a two-way communication with the desktop gave me the inspiration to create a digital keyboard app that would allow me to make my own layout. The most surprising thing in developing the app was that it works with EVERY application on the desktop. I never even thought that far. But now people who use Accounting, Graphics, Sound Mixing, CAD apps, etc. can use Keymand for the very same reason I wanted it – organization and efficiency.
Larry: What are you hoping to do with it in the future?
David: Wow, the future. I already have feature upgrades in mind all the way to a version 5 and some pretty cool ideas beyond. The primary goal for the future of Keymand is to keep true to our mission statement:
"To simplifying and streamlining the connection between user and software by reducing the gap between thought and expression."
I also plan to be responsive to our users. I'm one of them, and they are basically me when it comes to a desire to reduce the 'work' and remain productively creative.
Larry: Can we use this to build workflows – that is, execute a series of shortcuts?
David: Yes. You can use macro programs just like always and simple assign the shortcuts to a Keymand Button. We are planning on having our own macro function in the future but right now existing macro apps work perfectly fine.
I sometimes set up buttons in a specific order so I can execute a series of commands with a quick string of taps. I'd be interested to see if gamers use keymand to make a whole panel of just one command and then tap the hell out of it for a rapid and sustained action.
Larry: What would you most like my readers to understand about Keymand?
David: I think I want users to see this as a tool they can, not only make their own but see it evolving with them in mind. I want to hear their feedback on how they use Keymand and what they would like to see in the next versions. Time and money might be an issue in doing everything we both want but the initial idea of creating an app for my needs is just the starting point.
THINGS I'D LIKE TO SEE
This is a VERY impressive initial release. As the program evolves, here are some additional features I'd like to see:
The ability to import and export shortcut layouts so they can be shared between editors.
The ability to drag a button to different locations in the button grid.
The ability to combine multiple shortcuts into one button to build a simple workflow using just the app.
The ability to name shortcuts on the Mac keyboard. I'm, ah, not the world's fastest iPad typist.
The ability to have more than four panels. The last time I counted, I regularly use about 280 shortcuts for Final Cut Pro X, grouped into nine different categories.
SUMMARY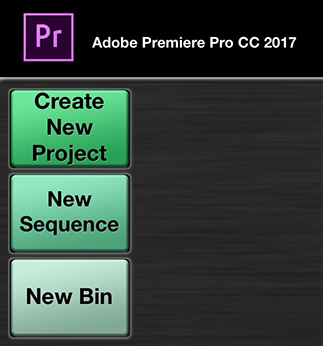 One of the powerful features of this software is that it allows me to customize my shortcuts for any Mac application. Plus, assign each button a color that is meaningful to me and position them anywhere within these four grids.
I'm very impressed with this program. The User Manual is clearly written and copiously illustrated. The application does what it says it is going to do, in a clean, simple and very helpful fashion.
If you are looking for a way to work faster, declutter your brain of keyboard shortcuts and organize them within easy reach of your finger tips as a customized button, Keymand is exactly what you need.
---
Bookmark the
permalink
.