FCP 7: Why Images Display Poorly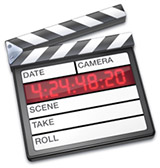 Here's a question I'm getting a lot recently: "When I display an image in the Viewer in Final Cut Pro 7, it looks great. When I edit it to the Timeline, it looks awful. Why?"
The short answer is that in Final Cut Pro 7, the Viewer displays the image at its source resolution and codec, while the Canvas displays the image based upon the Timeline settings. And video is always lower resolution than the source still.
With that as preamble, let me show you what this means in real life and give you some suggestions you can use to make your images look better – either for playback or export.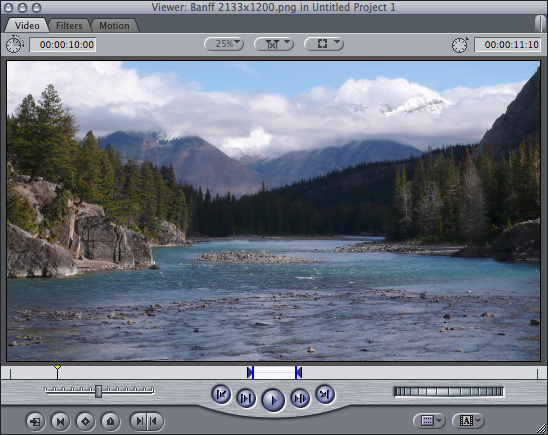 For instance, here's an image displayed in the Viewer at 25% of its native size. (In this case this is a PNG at 2133 x 1200 pixels)
The image looks great.
Now, let's edit it to the Timeline. (To make this really easy to see given that I can't put really big images in this article, I set the Timeline settings to 16:9 DV, however, image quality is reduced by some amount in all video formats.)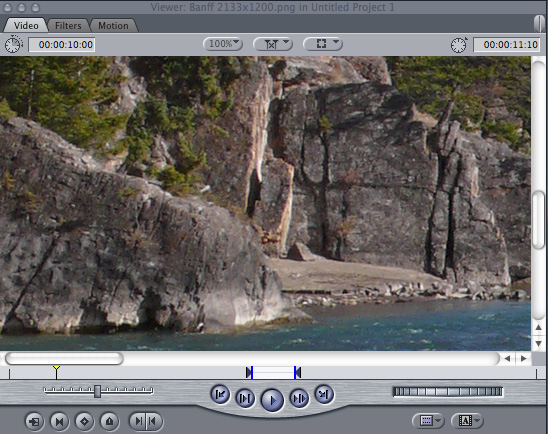 Here's a portion of the image at 100% size in the Viewer.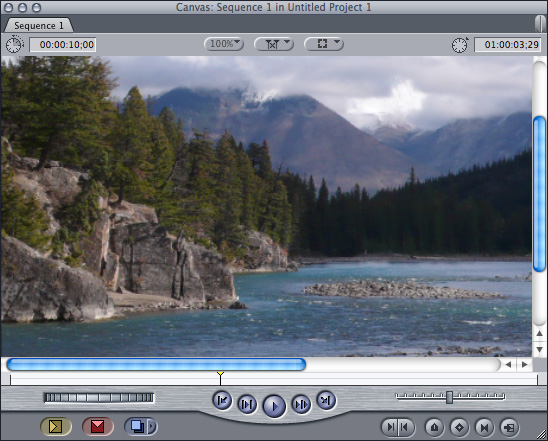 Here's the same portion of the image at 100% scale in the Canvas. Notice that the image is much smaller than the source image.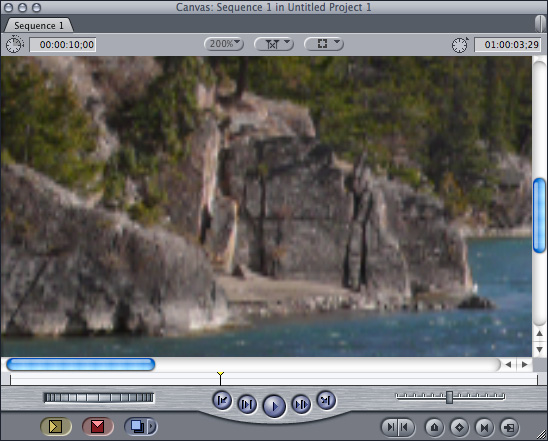 If I scale the Timeline image so that it matches the framing of the Viewer image, you can clearly see how much converting the image into a video format has damaged the quality.
CAN THIS BE FIXED?
No. Standard-definition video has always been a very low resolution image. That's why HD video was invented. However, even the best HD won't look as good as the source image that may contain 4-8 times more pixels (resolution) that the Timeline supports.
Still images regularly approach 20 megapixels; even cell phones take 8 megapixel images. 1080p HD video is 2.07 megapixels.  NTSC SD video is 0.34 megapixels.  There is no "there" there.
Still, here are three settings that can make your images look better.
NOTE: The first two settings only affect playback. Keep in mind, however, that video will virtually always have a lower image resolution than a digital still image. There's nothing that can be done about this, it is inherent in the video format.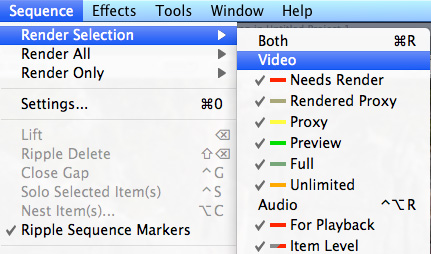 Setting 1: Always render your Timeline. Unrendered images look worse than rendered images.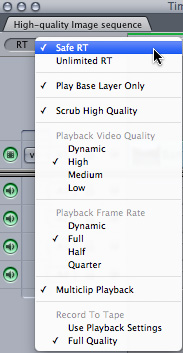 Setting 2: For the best image quality during playback, at the expense of rendering more effects, set the RT menu in the top left corner of the Timeline to:
Safe RT
Playback Video Quality: High
Playback Frame Rate: Full
The trade-off is that you'll need to render just about everything.
NOTE: Conversely, if you want more real-time playback with less rendering, resulting in a lower image quality during playback, set this menu to:

Unlimited RT
Playback Video Quality: Dynamic
Playback Frame Rate: Dynamic (or lower)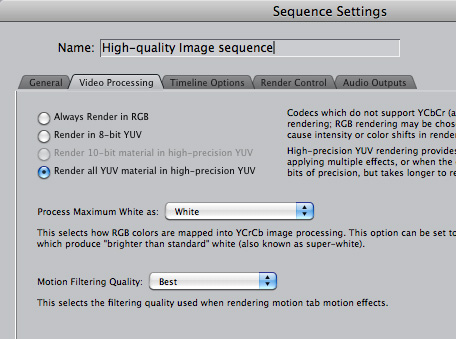 Setting 3: This last setting DOES affect output, because it affects rendering. If you are adding effects, especially color correction, select the Timeline, then choose Sequence > Settings > Video Processing.
NOTE: If you don't add effects, changing these settings won't affect image quality.
Change the processing to Render all YUV material in high-precision YUV. Rendering with this setting takes a lot longer than a normal render, so I tend to do this only at the end of a project. This setting will make gradients and color effects look better.
Change the Motion Filtering Quality to Best if you are rotating or scaling images. This minimizes stair-stepping and other scaling artifacts. Like the Video Processing setting, rendering this setting will take longer. Save it for the last render before output.
FINAL THOUGHTS
Final Cut always outputs your images at the highest quality the video format supports, regardless of how the first two settings are set.
Video images will always look softer than original still images. Video has a fraction of the image resolution of a still image. That is inherent in the video image. However, there are things you can do to make your images look better:
Avoid very fine lines and tiny detail
Avoid lines that are almost horizontal or vertical
Avoid lighting that creates obvious gradients which often cause video banding
Never enlarge a still image more than 100%
Keep principle subjects large in the frame
Where possible, use images with limited depth of field, blurs hide lots of image problems
Avoid images with excessive white levels, overexposed sky, or blown-out highlights
The reason we watch video is because it moves. The reason we look at still images is because we want to study the detail. As long as you don't expect 2 megapixel HD video to look like a 22 megapixel still image, you'll be fine.
---
Bookmark the
permalink
.